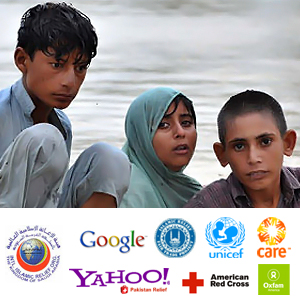 Pakistan has been struck by the worst flooding in its recorded history. Millions of people have been impacted, critical infrastructure has been damaged and clean water is in short supply. The entire world is gathering on one platform of humanity to help the victims of the terrible natural disaster.
In UN General Assembly special meeting session, 73 member countries have assured collectively US $816 million aid for flood relief operation in Pakistan.
Moreover, the Netherlands' public and private broadcasters are teaming up on August 26, 2010 for a nationwide fund collecting day. All radio and TV stations will call on listeners to donate money through the national Giro Bank account, 555.
Hollywood Superstar, Angelina Jolie has given $ 100,000 of her own money to help the flood relief effort in Pakistan. Besides, she has also made a public appeal to fans to help raising cash to aid Pakistan flood victims. Another celebrity, Mark Shinoda of the 'Linkin Park' has step forth to help Pakistan Flood relief operation through his non profit organization 'Music for Relief'.
The search engine Google, has created a special web section for 'Disaster Relief in Pakistan' offering donation options and 'person finder' for Pakistanis, to help locate missing people. Besides, it has also donated a quarter of million dollars to various NGO's on both National and Local level. Moreover, search engine Yahoo too has joined the effort by adding a link to its logo to 'Pakistan Floods how to help' page that offers a guide about how to help the victims of flood.
Many Organizations are working independently for the noble cause, collecting donations from all over the world. Below are the links from where you can donate for Pakistan Flood relief operation:
UNICEF:
Millions of children have lost their homes and have no food and clean water. UNICEF is working to provide them life saving aid that includes safe drinking water, medical supplies and vaccinations against measles and polio. Help children in Pakistan by donating to UNICEF's emergency appeal at www.unicefusa.org
American Red Cross:
American Red Cross is sending relief supplies including tarps, blankets and kitchen items. To donate visit www.redcross.org and click 'Donate' and 'Support Pakistan Relief and Development'
CARE:
CARE is providing life-saving aid to flood victims by supporting health care teams, mobile clinics and the distribution of emergency supplies. Donate online at www.care.org
Catholic Relief Services:
CRS collects cash for work projects that pay survivors for their labor on irrigations channels, pathways, retaining walls and other constructive projects for the benefit of whole community. Donate online at www.crs.org
Islamic Relief USA:
Islamic Relief workers are assisting in the evacuation effort, administering aid and helping serve thousands of flood victims. Donate for the noble cause online at www.islamicreliefusa.org
Mercy Corps:
Mercy Corps' field team desperately needs donations to provide clean water, staple foods and cleanup tools to millions of affected families. Donate online at www.mercycorps.org
Oxfam America:
Oxfam America is working to reach more than 650,000 people with rescue services, clean water, sanitation kits and other essential aid. Assist them by donating online at www.oxfamamerica.org
Save the Children:
Save the Children is providing humanitarian relief in the shape of emergency health care and provision of non-food items and shelter. Donate online at www.savethechildren.org
UN World Food Program:
WFP has been able to deliver a month's ration of food to more then 370,000 people and hopes to reach more. Assist them with your donations at www.wfp.org
Let's join hands in this global effort and help Flood victims to dream a new life, a new start.