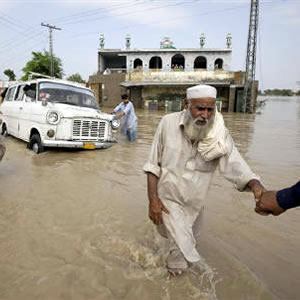 Millions of people died and marooned as the natural tragedy befell on Pakistan in the worst catastrophic way ever. This is an earnest appeal to the Pakistani based US citizens from the whole team of Fashion central to help the refugees struggling through the natural disaster simply by sending a text.
Massive floods caused by torrential monsoon rains have affected the lives of around 3.2 million people, including 1.4 innocent children in Peshawar and 1.5 million people in Baluchistan. Around 980,000 people who have lost their homes are trying to seek shelter in Refugee camps in an extreme state of hunger and thirst.
The flood waters while engulfing everything in their way has now surged into Pakistan's heartlands, Punjab and Upper Sindh, affecting almost 3,000 people. God knows how much more lives this natural curse will take in the coming days.
All those Pakistanis who are living in US, your country needs you at this time of tragedy and sorrow. You can help by donating $10 to the poor victims of flood simply by texting the word 'SWAT' to 50555 from your cell phones and help your motherland to regain her strength.