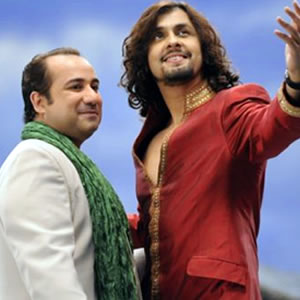 Chhote Ustaad, Do Deshon Ki Ek Awaaz TV Show on Geo TV is an emotional pack musical ride between two countries India and Pakistan in which 10 contestants within the age limit of 8 to 14 years are participating from both the countries. Amul plays a major role in sponsoring this popular program which has won millions of hearts on both sides of the border.
The show started on 24th July, 2010 on Geo TV and airs every Saturday and Sunday at 8:30 PM in Pakistan. It is going to provide an excellent platform for two strangers to become the best of friends.
Chhote Ustaad 2010 Judges
Chhote Ustaad 2010 is judged by the two most outstanding singers from both the countries- The King of Indi Pop, Sonu Nigham and a well known Qawwal singer, Ustad Rahat Fateh Ali Khan.
Chhote Ustaad 2010 Hosts
Chhote Ustaad 2010 host is Omi Vaidya and Chinmayi. Omi Vaidya is the comic host and dost of kids in Chhote Ustaad on Geo TV.
Chhote Ustaab 2010 Contestants
Chhote Ustaad's 10 contestants from Pakistan are:
Rouhan
Rose
Wania
Shahid
Fahad
Fariha
Mair
Faisal
Ahsan
Rishabh
Chhote Ustaad 2010 Format
First week of Chhote Ustaad on Geo TV introduced all top 20 contestants from India and Pakistan. This week all contestants amused the audience with their singing talent. All contestants are teamed up now. There will be 10 teams – each comprising of 1 Indian and 1 Pakistani. They will compete against each other on a week on week basis to win the title of Chhote Ustaad 2010.