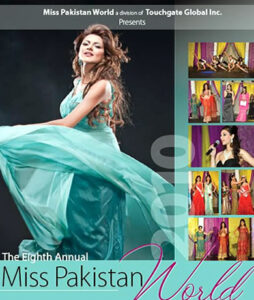 Started by Sonia Ahmed in 2002 in her University, the Miss Pakistan World pageant has now crowned 7 national winners and 14 international beauty queens for Pakistan. "What started off as an event gave birth to an industry for Pakistan," says Ahmed.
An industry that never existed for Pakistan now has applicants coming from Europe, USA, Canada and some parts of Asia. This is the only pageant in the world for Pakistan, and follows authentic rules and regulations, as well as runs on international pageant standards. The contestants fly down from all around the world to Toronto, Canada and the pageant is a full 10 day pageant, where it includes, photo shoots, sponsor venue shoots, interview sessions, media pre-interviews, sightseeing, dinners at the finest restaurants and non-stop rehearsals. Canada has been the host country for the past eight years, even though the pageant began in the capital of Canada – Ottawa.
Running for 8 strong years, Sonia Ahmed has been the back bone of the pageant making sure that the contestants who participate have a chance on the international level in international beauty pageants. The international "2010 marks the 8th year for this industry for Pakistan, and it is with great honor and pride as a Pakistani that I will celebrate this year and this event with the support of my sponsors and my contestants," added Sonia Ahmed, President of Miss Pakistan World.
An array of girls of Pakistani origin will be attending from Europe, Canada and the USA. In a short time, Pakistani beauty queens have made a mark around the world and will continue to do so. 2009 saw a big year for the Miss Pakistan World pageant, from meeting President Musharraf, to winning Beauty of Asia in China a few months back.
On the 20th of August 2010, the Miss Pakistan World will be taking place at the Pearson Convention Center in Toronto, Canada. An expecting audience of 650 people from across, the USA & Canada, mainly a Pakistani mix with the rest of the Southasian community will witness the crowning of the 8th year for Pakistan's only pageant in the world – Miss Pakistan World.
Go back to Miss Pakistan World 2010