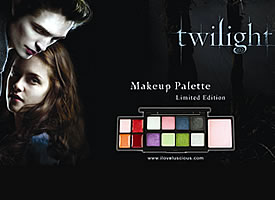 (Pakistan 05 July 2010) This July, Luscious Cosmetics will be unveiling a Limited Edition Makeup Palette inspired by the Twilight Saga film series to coincide with the release of the highly anticipated third sequel of the saga, Eclipse. These Twilight Limited Edition kits will hit stores across Pakistan starting the second week of July.
Each kit contains 4 lip glosses, 8 eye shadows, and 1 face shimmer, all packaged in a sleek compact  featuring the Cullen family crest on its cover. The shades named "Bella", "Jane", "Alice", "Rosalie", etc., in keeping with the characters' looks, are reflective of Luscious'  chic and glamorous style.
As an additional exciting offer by Luscious, the Twilight Makeup Palette will be tied in with the biggest nationwide contest by Luscious yet. Each kit will contain a secret code number which will enable each customer to enter the contest. Prizes include signed photographs of Twilight stars Robert Pattinson, Kristen Stewart and Taylor Lautner, as well as merchandise related to the movie.
This new product is yet another example of the brand's interactive philosophy and mission to remain in tune with global trends for the benefit of its fans.Therefore, this summer, Luscious Cosmetics has decided to bring forth a special edition product for its Twilight crazed fans so that they can enjoy the movie and look gorgeous all summer too!
Luscious Cosmetics is a beauty brand offering luxury quality products with innovative formulas and glamorous packaging. The products are formulated especially for South Asian skin tones while following global fashion trends and cutting-edge technology. The brand has grown to offer a complete range of colour cosmetics, a revolutionary sun-protection product and beauty brushes. The range is versatile and constantly expanding and to this end, Luscious has most recently introduced Lip Couture, the brand's tribute to high fashion along with a range of eye and lip pencils, a complete range of diamond finish nail lacquer, ultra shine lip glosses, an incredible lash mascara, a 12 piece deluxe brush set and an instant brightening concealer.