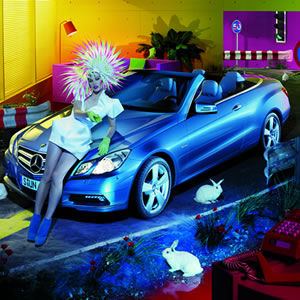 Mercedes Benz Fashion Week allures the million hearts with its upcoming latest Summer/Spring collection 2011, an epitome of fascination and individuality that is providing opportunity to Fashion designers to amuse their guests with their latest artistic creations. Mercedes Benz and Fashion have many things in common; both are driven by a same passionate force to come up with artful conceptions that are matchless and unique. The Mercedes Benz E class convertible represents a classic and fancy design that goes perfect with high class fashion to form a combination that is timeless and elegant.
Mercedes Benz fashion Week is receiving worldwide attention along with its growing popularity and success. Over 150 applications were received out of which 8 finalists were chosen to show their debut collection within Mercedes Benz Fashion Week Berlin on July 9, 2010. Top brands including 30paarhaende, Allude, Anja Gockel, Arrondissement AQ1, Blaak, Custo Barcelona, .Dimitri, Kaviar Gauche, Kilian Kerner, Lala Berlin, Laurel, Patrick Mohr, Perret Schaad, Rana Lange, Risto Bimbiloski, Schumacher, Starstyling and Thomas Engel Hart with designers Blacky Dress, Christina Duxa Couture, Dawid Tomaszewski, and Mavi are getting a chance to show their collections for the very first time. Boss Black and Mongrels in common are showing their collections offsite.
This season's sensational key image features stunning fashion model and actresses Milla Jovovich. The image represents a masterpiece of beauty, grace and creativity that is the central link between Mercedes Benz and fashion. By stepping into the glamorous world of fashion Mercedes Benz has made a magnificent blend of cultural colors with technical newness.
The event is being held from Wednesday July 7, 2010 to Saturday July 10, 2010 at Bebelplatz, the historic heart of Berlin. Marcel Ostertag will open Mercedes Benz Fashion Week at 10am on Wednesday, Reception at 11am at JETTE LOUNGE offsite at Hotel de Rome. Lena Hoschek will present their collection at 11:30 am, Christina Duxa Couture at 1pm, Dimitri at 3pm and Lala Berlin at 4:30pm.
As part of Mercedes-Benz Fashion Week Berlin 2011, Peek & Cloppenburg KG Düsseldorf has organized the "Designer for Tomorrow by Peek & Cloppenburg" award for young designers for long term support and providing them with a platform for new ideas and design.
Apart from the Fashion Week, Berlin also supports events focusing on new talents, green fashion and formats like Showroom mile, which makes fashion approachable to general public as well consequently making fashion as not only an economic aspect but also a fundamental part of its culture and social identity.