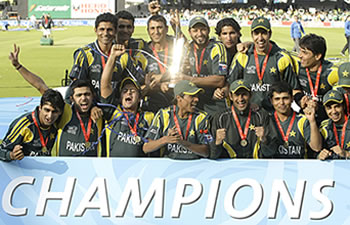 Pakistan the reigning world champions of T-20 produced a remarkable performance to knock out the so dominating South Africa from the current T20 world cup. In process they have managed to reach the Semi final of the tournament Whoopi…
Pakistan started their world cup campaign with a solid performance against Bangladesh, after that it was a side that had no direction. They were miserable in the field and the batting performance by our stars left a lot of their fans sort of angry. They lost every game in the process, until yesterday.
Making sure that we are cornered and pulling back from such a situation seems to have become our national character. Pakistan lost the first two games of the super 8 stage of the world cup due to poor fielding and batting performance. Our bowling has been top notch but without a solid support in the field it cannot achieve much.
Against South Africa our stars the Akmal brothers and Afridi came out full throttle and took charge of the proceedings. Even though the start was dismal but our middle order made sure that we reached a respectable total of 148 runs with an average of 7.40 runs per over. Considering the pitch conditions and the strong batting line up of South Africa, it was being assumed that they will cruise to victory; but the first 6 over's turned out to be the defining moments, with Gibbs getting out after 2.4 over's and Smith after 4.4 over's. After the 10th over the average rate required had gone above 10 runs per over. After which Saeed Ajmal took charge and in his spell of 4 over's took 4 wickets for just 26 runs, which proved to be the nail in the coffin of South Africa.
Great performance both with bat and bowl and amazingly enough no catches were dropped rather Misbah and Umar Akmal took two brilliant catches. Let's hope they can keep up this form. From the looks of it Pakistan will be meeting Australia in the Semi's and it is about time we sent the Aussie team back home early.