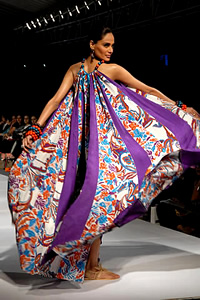 Review of designer, Sara Shahid of Sublime, as she shows her stylish and fun collection at Pakistan Fashion Week
Romanticism coupled with practicality is an irresistible combination. Effortless, and classic is what Sara's label, Sublime, exudes. The word alone explains what she wants the world to know about her designs. She herself epitomizes her own brand as her elegant and clean designs are worn so well by her. Quite possibly one of the nicest designers in the fashion fraternity, Sara Shahid is never short of a bright smile which is probably why her collection was so fun and fantastic at Pakistan Fashion Week.
Colour Me Sublime was most certainly unexpected and some surprises are worth the wait. The whole collection was sprightly and yet elegant and grown up. The mixture of vibrant colour palettes mixed with flowing chiffons and flattering cuts made this collection oh so buyable because a Sublime outfit is the perfect addition to your spring summer wardrobes for 2010. That's something I adore about this brand and at Sublime's Pakistan Fashion Week collection; the designs were very wearable and not just for ramp related drama. Some may say it's playing safe at Pakistan Fashion Week but those who know what Sublime stands for and portrays, will know that the designer used an array of colours which was unlike her usual colour palette of nudes, neutrals and pastels. Keeping this new element in mind, the designer didn't fail to bring it to Pakistan Fashion Week.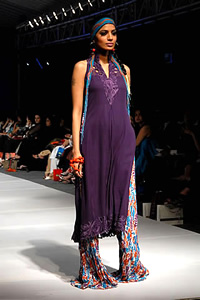 Floral prints are without a doubt sought after for this year and their wonderful prints were very feminine indeed without being garish. Earthy prints and floral prints were in a range of colours; from pure white and plums to hues of pinks and oranges. Ruffling detailing is another major trend to follow this year, as Sublime showed in several outfits on the catwalk. Colours used in her collection were very fresh and almost made me wish I could take them, wear them and holiday in Bali somewhere ASAP!
From turquoise to aubergine purples, fuchsias and orange, a delectable array of halter neck ensembles cascaded down the runway at Pakistan Fashion Week. The large screen at the beginning of the runway was constantly flashing with memorable quotes about colour and life, which I'm sure are the designers favourites. My personal favourite had to be by John Calvin
There is not one blade of grass, there is no color in this world that is not intended to make us rejoice.
As Sublime's collection drew to an end, the designer received a standing ovation from many in the crowd, whilst for all VIP guests, there were fabulous giveaways which included an original Sublime T shirt. Men and women's T shirts were included as well as a booklet detailing Sara Shahid's vision and designs from Sublime, over the years.