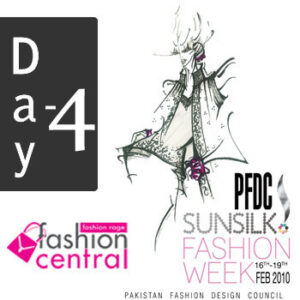 Day 4 marked the closing day of PFDC Sunsilk Fashion Week, February 2010, in Lahore. Day 4 was buzzing with fashion, music and high drama! The evening's opening show was staged by Karachi based designer Nomi Ansari, with his collection "The Circus of Life". This collection was a celebration of colour, layers and textures fused with a stylized and festive silhouette.  His collection symbolised the re creation of fabrics through the use of innovative techniques along with a varied mixture of chiffons, silks, cottons, voiles, organzas, laces, crepes and nets. 'The Circus of Life' was Nomi Ansari's most vibrant collection to date and will feature a variety of accessories, bustiers, jackets, skinnies, skirts, tops, drapes and volume.
Fashion designer Nomi Ansari launched his eponymous label the same year he graduating from the Pakistan School of Fashion Design in 2001. He is best known for his unique command over diverse colour palettes and his bold cuts fused with traditional and intricate embroidery. Nomi Ansari has showcased his label across the UK, USA, India, Singapore, UAE and Malaysia and in Pakistan; he was awarded Designer of the Year in 2005 and best womenswear Designer at the Pakistan Style Awards in 2007.
Act 1's second show belonged to understated designer Sahar Atif and her label Saai who showcased her Prêt a Porter womenswear collection entitled "Gulistani Sahar". Indeed it was a sensual collection amalgamating in itself a fusion of various textures, fabrics, embroideries and a feminine seductive silhouette. The dramatic monochrome colour palette of this collection exhibited the changing seasons and times in the gulistan. 'Gulistani Sahar' was inspired by the regional embroideries of rural Pakistan and endeavours to showcase the beauty of Pakistani's rural areas to all audiences. Models strutted out to a selection of the brand 'Strings' songs with the finale of her show including the pop duo Strings themselves to come down the ramp and sing live!
Sahar Atif is a designer renowned for her unique focus on having created and sustained her affordable designer wear label, Saai. A graduate of the first batch of PIFD, she encapsulates the spirit of entrepreneurship with her expanding brand Saai and academia through her work as a teacher within the realms of fashion. Sahar also currently heads the Design and Textile Department at the Lahore Grammar School and is currently working in close coordination with the University of Cambridge in the implementation and designing of an A'level module in textile, design and fashion, being offered globally for the first time. In 2003, Sahar diversified from fashion education to designing and launched her label 'Saai', initially focusing on bridal and formal wear. In July 2005 'Saai Concepts' was launched with its retail outlet in Lahore. In 2007 Sahar showcased her Saai bridal collection at the coveted 'Bridal Asia' in New Delhi to an overwhelming response from media and buyers alike.  The 2009 bridal season witnessed a further collaborative partnership, this time between Saai and a Manchester based retailer, who launched their debut collection at the Asiana Bridal Show in January 2009 to much acclaim.
Veteran Karachi based designer Shaiyanne Malik took the ramp after Sahar Atif and showcasing her label SamanZar's formal collection entitled 'Kama'. The SamanZar collection reflected the designer's ode to love and through fashion, offered a plea to invoke a positive passion stronger than the current negativity.  'Kama' was also inspired by ancient and lost civilizations. This collection including both women and men's wear in a combination of conventional fabrics including silks and jamawars fused with unconventional fabrics like linen and raw cotton. Stylist Natasha Saigol walked the ramp for Shaiyanne Malik.
The SamamZar fashion house was launched by Shaiyanne Malik over two decades ago and is known particularly for its bridal and couture and lines – to date Shaiyanne Malik's forte are her label's embellishments and embroideries. The label's signature is to create collections steeped in historical romance and culture. The inspiration for the name of the label came from Shaiyanne's children, Saman and Zarmand, Samanzar being the amalgamation of both which together means a garden of jasmine flowers. A leading name in Pakistani fashion, Shaiyanne is an award winning designer who has represented Pakistani fashion internationally and showcased across Pakistan to much acclaim. In the year 2000, she represented Pakistan and SamanZar won four significant awards including: the best country presentation, best ensemble, best designer and best model at the International Silk Route Festival in Istanbul, Turkey where nine countries participated.
Headlining Act 1 were Faraz and Sundas Manan with her label Rouge. Rouge's diverse diffusion collection included womenswear with a selection of menswear pieces. Entitled 'The Rebel', this collection was inspired by rebellious royals, Spanish matadors and Jodhpur polo players thereby giving the line an overall vintage look and feel. Pieces included bolero jackets and cocktail dresses featuring Polki jewelled embroideries with antique naqshi and kora with a twist for a more wild and rugged aesthetic. 'The Rebel' was based in a contemporary and classic mix of fabrics including jersey, silk and satin with a hint of cotton silk and as the name rouge signifies, each  piece also featured the shade itself. Rouge's fashion week collection also included a denim line in collaboration with retail brand Stoneage, incorporating a new stretch denim fabric.  Walking the ramp for Rouge were actresses Fizza and Sana and acclaimed stylist Shehzad Raza.
Inspired by their mother and designer Memoona Manan, Sundas and Faraz Manan, the brother and sister duo behind the Rouge fashion house are sought after for their couture and bridal wear, locally and internationally. With Faraz's degree in Economics and Sundas as a graduate from the coveted London College of Fashion, Rouge has had the honour of designing couture for Victoria Beckham as well as the Saudi Royal Family and Sundas herself has styled Bollywood celebrity Deepika Padukone for a series of scenes in her movie, 'Love Aaj Kal'. Rouge has shown at a diversity of international fashion destinations including New York, Bombay and Dubai and in Pakistan, has been nominated for best Couture at the prestigious Lux Style Awards.
After a short break, the second act of the last day of fashion week commenced with a video put together by designer YBQ for magazine and fashion label Libas, headed by PFDC Sunsilk Fashion Week chairperson Sehyr Saigol. This included a short showcase of models displaying heritage Libas couture from a vintage Libas collection including pieces for a collection made entirely out of Burqas.
Libas showcase was followed by popular designer Maria B, whose fashion week womenswear Prêt a Porter collection, 'Urban Rajistan' drew inspiration from the state of Rajistan. This collection was based in a diversity of cotton fabrics indigenous to Pakistan in a conscious bid to promote the local textile industry. Maria B walked the ramp with her daughter, designer Feeha Jamshed and a Pakistani flag in tow!
Maria.B is the largest manufacturer and retailer of women's fashion in Pakistan. Her eponymous brand was launched with a vision to revolutionise retail in the country and to create Pakistan's first women's fashion brand after her graduation from the prestigious Pakistan School of Fashion Design in 1998.  Today, Maria B has 11 outlets across the country and 5 brands under the label including: Mafia casuals, Mgirl, Maria B evening, Maria B lawn and Maria B brides. In 1997 Maria won an international fashion competition held in Belgium by the name of "Les Etoiles de la Mode". Here she was also named as one of the three upcoming designers in the world. Maria B has always worked on an export oriented strategy, for which purpose her product lines have been displayed at fashion events across the world including Chicago( 2001), France -Paris (Pret-a-Porter,2001) U.S.A-New York (2002), Thailand- Bangkok(Bangkok International Fashion Fair, 2002),U.K-Birmingham(South Asian Fashion Mela, 2002), U.S.A-Los Angeles (2003) ,U.S.A-Washington DC (2004), and the U.K Manchester (Asian Brides Show, 2004). Maria B's future plans look to double the existing workforce to meet production requirements for the new London outlet and export related production for UAE and UK. Maria B is currently available in Lahore, Karachi, Islamabad, Faisalabad, New Delhi, Dubai and Manchester.
Islamabad based designer Sobia Nazir showcased her prêt a porter womenswear collection entitled "Sequence of Bloom"; this was bohemian inspired with fresh colour combinations, dynamic prints and modern silhouettes. "Sequence of Bloom" was crafted on a diversity of fabrics including French chiffons and crepe silks and with zardozi and crystal embellishment, appliqué, and thread work.
Indeed Sobia Nazir in many ways pioneered the Islamabad fashion scene having started her career over a decade ago. To date, Sobia's label has continued to grow organically securing both its national and international presence. With her current flagship outlet in Islamabad, Sobia has also showcased at the prestigious Dubai Fashion Week for three consecutive years and also continues to participate in shows across the world. Her work has appeared on the cover pages of fashion publications including Harpers Bazaar, Libas, Asiana and Asian Woman among many others. In 2008, Sobia Nazir was honoured as 'Best Pakistani designer of the year' by the Asian Style awards. The same year, she also launched her debut line of exclusive and elegant lawn fabric followed by her second one for Spring/Summer 2009. Her latest lawn print collection will be launched in March 2010.
Munib Nawaz followed Sobia Nazir with  formal menswear collection entitled 'Kushti 2010', inspired by the strength and courage found in the traditional form of wrestling within the Sub Continent. Within this collection, Munib presented the contemporary version of the kushti/wrestlers. His use of fabrics included silk blends, cottons, linen and silk blended wool for the more structured pieces. On the ramp was contemporary embellishment with cuts and straight seams set to highlight masculinity and structure throughout this collection. Walking the ramp for Munib Nawaz was actor and popular musician Fawad Khan.
Munib Nawaz as a designer is a progressive idealizer and indeed a believer in what can be achieved rather than what has been achieved. His collections cater to those who believe in elegance, opulence and style without boundaries. Indeed Munib is a fashion force recognised both nationally and internationally; He has been nominated on numerous occasions for Pakistan's top fashion award, the Lux Style, for best Menswear and last year, after his acclaimed showcase at Miami Fashion Week, received the prestigious Men's Style Designer of the Year award at the Week itself.
"Although HSY has been actively involved in multiple fashion events across the globe, with countless individual and group shows to its credit, it is always with immense pride and pleasure that we display our collection at home"
HSY's was indeed the finale show at the debut PFDC Sunsilk Fashion Week. HSY brought to Lahore his couture menswear and womenswear collection entitled 'Mumtaz Jehan'. The inspiration for this collection is drawn from the inherent beauty of life and featured a video of HSY's brand and its chronology with pop sensation Ali Zafar as the  brand's showstopper, performing his new, as yet unreleased song 'Jhoom' for his new album, also titled 'Jhoom', for the first time in Pakistan. This was also the first time a Pakistan cosmetic brand Luscious, tied up with a design house with all HSY giveaways including a special eyeshadow palate to recreate the HSY ramp look.
Established in 2000, HSY is predominantly a bridal house specializing in couture best known for combining contemporary silhouettes with traditional techniques of old. Indeed this synthesis is the cornerstone of the design philosophy at HSY. The brand's inspiration is distinctly Pakistani and Middle Eastern peppered with Western influences. Easily recognized as one of the biggest names in fashion in the region, Hassan Sheheryar Yasin is the fashion force behind the label and has been referred to as the 'New King of Couture' by Harpers Bazaar. Hassan himself holds an honours degree in Couture from the Pakistan School of Fashion Design, an affiliate of La Chambre Syndicate De La Couture Parisienne, France. Currently serving as a member of the board of directors of the Pakistan Fashion Institution, Hassan is also one of the founding members of the PFDC and the recipient of multiple 'Designer of the Year' awards including the Ahlan Fashion and Lifestyle awards 2009, the Lux Style Award in 2005 as well as in 2007 in Malaysia, the Most Stylish Fashion Icon at the MTV Style Awards in 2008 and Style Guru of the year by Indus Style awards in 2007. One of the I.Q magazine's top 20 Fashion Icons of the world in 2009 and amongst Ahlan's Hot 100 people 2009 and 2010, Hassan has been actively involved in the world of fashion for over 15 years.
The evening concluded with a brief announcement of the Libas Awards 2010 which included the following categories:
Libas Award for Heritage [Translating indigenous art and craft into fashion] – Awarded to the House of Kamiar Rokni [Kamiar Rokni & Tia Noon]
Libas Award for 'Less Is More' [The most the understated yet impactful designer] – Awarded to Sara Shahid for her label Sublime
Libas Award for Most Promising Designer of the Week: Award to PIFD graduate Ali Xeeshan.
Libas Award for Designer of the Week: Awarded to Iman Ahmed of Body Focus
Libas Award for Best Female Model: Awarded to Nadia Hussain
Libas Award for Best Male Model: Mohammad