The Fashion Industry of Pakistan is tremendously doing its best in the world of Style and Fashion. Pakistani Fashion industry is proudly producing talented people with sharp minds and smart figures in the field of Fashion Modeling.
Pakistani Fashion Models are gaining popularity with the every passing day; both at national and international level. In fact the trend of arranging Mega Fashion Shows is more spreading in middle-east, and in Asian countries, as compared to European Countries. As the sense of adopting latest & unique fashion is increasing among the people, similarly the trend of experimenting new Fashion designs (especially by different designers) is also gaining popularity. We see the latest new designs every day in some magazine, on the cover page of sum fashion publications, through T.V, Fashion shows etc. Especially on the ramps or Fashion shows, we explore the latest fashion variety; and the people who represents these fashion styles are the 'Fashion Models'.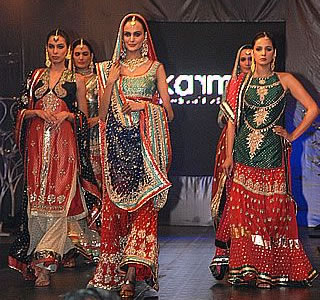 Pakistani Fashion models are certainly the representatives of our Fashion industry. The trend of becoming fashion model and the competition among the models is increasing with the every passing day. Especially from the last few years Pakistani Fashion industry has introduced many stylish and hard-working fashion models. Like Vaneeza, Aminah Haq, Iraj, Suneeta Marshall, Eman Ali, Nadia Hussain, Rubab, Neha, Fozia, Mehreen, Faiza Ansari, Tooba, Rachel, Rabya, Saba Qamar and many more. Vaneeza, Iraj, Eman Ali, Nadia and Aminah, Haq etc are the senior Fashion models and the most of them are new Faces in the world of Fashion modeling.
Almost all of them have to work hard in order to maintain their name and to be on the ramp & in fashion magazines. They also try their best to keep them selves fit and up-to-date. They have to be physically, mentally, psychologically smart; as they are idealized by many fashion lovers and followers. It does not matter too much that which family and educational background they belongs, as people wants to see glamour and beauty in the Fashion shows, Fashion magazines and on the ramps.
Due to the hard work of Pakistani Fashion models and designers, many National and International companies & designers prefers to arrange Fashion Shows in the renowned cities of Pakistan; like Karachi, Islamabad and Lahore.
Our models are doing their best to establish the name of our country in the international Fashion industry, in a true sense.