Undoubtedly, jewelry is the weakness of most of the women. Some ladies love to wear jewelry and they are just crazy about the accessories they carries, particularly the jewelry they wear.
There are many types of fashionable jewelry to make the women more beautiful; like the old traditional one, which we at times call the antique jewelry, the gold (which has been the most common and likeable type of jewelry for women from centuries), silver jewelry and diamond jewelry, the delicate crystal & small beats jewelry, the jewelry consists of stones, etc.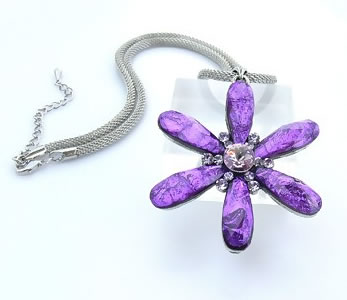 Besides all these kinds of jewelry, there is another unique/latest type of jewelry named 'the Funky Jewelry'. Funky jewelry, which is easily affordable & available in the markets now-a-days, is gaining much popularity with the every passing day. It is a good idea to give funky jewelry as gift. The uniqueness of the jewelry is its new designs and the colorful looks. The different multi-colors of the funky ornaments appear so attractive and became the reason of its fame. You can have matching funky jewelry with any of your dress and then can have a new fresh & striking look; as wearing funky jewelry simply means to have a different & new look, which you had never before.
The most common charms of the funky jewelry include the earrings, rings, necklaces, and especially the bracelets. Once you started wearing these trinkets, it become difficult to stop yourself. The colorful beats and buttons seem so catchy that any girl can easily become a fan of them. The different types of bracelets take account of tooth brush bracelets, Bee bracelets, origami bracelets, Potato chip bag bracelets, Tetris bracelets, button bracelets, etc. The exciting range of pendants includes stones pendants, lovely octopus necklace, Glass Tetris necklace, Lotus Love necklace, Freckle in the spring deer Photograph pendant, Robot Glazed Ceramic Clay Pendant, Hello Pendant, Cute animal Glass pendants, Maximum Fringe necklace, Open & Closed necklace, In a Pickle glass bottle pendant, etc. Other then these the interesting variety of rings comprise of Craved hand Cast Resin Cocktail rings, Decoupage Eye boll rings, Multiple Flower rings, etc. The funky range of ear-rings includes Phone Jack ear-rings, Red Dahlia ear-rings, Fabric Scrap ear-rings, etc.
So try this exclusive type of jewelry, by adding the colorful collection of Funky charms in your fashion statement.