Mostly Pakistani designers use their brilliance designing in bridal wear and wedding outfits. weddings is a onetime experience for a lifetime and designers are aware that people prefer to choose wedding outfits which look best for this joyful occasion. Designers create wedding outfits in traditional styles, which vividly emit glorious cultural and Eastern values.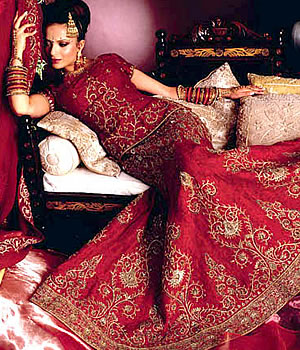 Designing Bridal wear and wedding outfits is one fashion line which never goes out of scene. Designers merge their imaginative sense in wedding outfits in a way to doll up the brides in stunning wedding outfits designed in perfect features to accentuate their beauty.
Colors of wedding outfits are somewhat preset, people prefer it that way. Using in the limited range of colors – from peach all the way to red – wedding outfits are designed gloriously to fit the feminine curves.
Wedding outfits normally include lehengas, churidaars, and ghagras. Wedding outfits are designed with fine detailing using zardosi, dabka, kundun work, resham embroidery, sequins work, muquash embroidery and swarovski crystals. Fabrics used for wedding outfits include chiffons, jamawaars, silk and banarasi in zarri weaving.
Nickie and Nina, HSY, Karma, Maria B and many others design wedding outfits in the most elegant and celestial manner. Wedding outfits are designed for the reason of their sheer popularity and demand.
Wedding outfits are slightly altered in styles, yet the basic style remains the same. Designers pay more attention to the designing details in wedding outfits, retaining the basic traditional style spirit and demand of their clients.
Wedding outfits are the most popular fashion wear in Pakistan. Wedding outfits are designed, keeping in view the desires and emotions of a bride.
Asian bridal dresses and wedding outfits are globally popular owing to their intricate designing, heavy embellishments, vibrant colors and elegant flowing styles, making a woman resemble a deity.
Indian and Pakistani wedding outfits are a sheer enchantment and mesmerize anyone who lays eyes on them. The sparkling traditional work and glittering details in the wedding outfits entraps you in a trance.