Obviously, after reading the topic the first to be expected from you is to scroll down the page and read the couples mentioned. But, don't get yourself thinking that Abhishek and John have finally decided to make it official among the public?
Nope these couples we are talking about are in terms of the on-screen chemistry witnessed between the actors and what appeals the public more. Once a couple creates sparkling on-screen chemistry, the paparazzi are always on their back, hunting for rumors and gossips. Some, simply put if off by saying, we are good friends, while others officially declare their on-screen romance is actually similar in their real life.
Following is the list of celebrity couples are the most "talked about" couples…on and off screen:
5 – Kareena Kapoor and Saif Ali Khan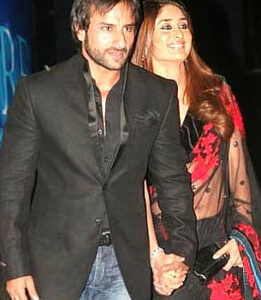 Starting backwards we have Kareena and Saif Ali Khan, who not only are on-screen love birds but share a real life intense  relationship. After Shahid broke Kareena's heart, it was Saif who came along on his black horse as a savior to take ther misery away from Kareens's life and spread his magic in her life.
After Shahid, Kareena found her profound love interest in the Nawab of of Pataudi. Kareena and Saif are so madly in love with one another that it is Heard that Saif went on to get a tatoo of her name imprinted on his arm. Kareena is flying high nowdays! Talk about luck
4 – Ranbir Kappor and Deepika Padukone
So, is it reue about Ranbir and Deepika? Well, it never does get enough for us does it? Sometimes, it seems like the two are madly in love but why do they deny their love interest so much?
Even in the song, "Khuda Jaane," they look so madly in love.
3 – Abhiskeh Bachchan and John Abraham
Caught your breath, didnt it? Well, the two did look utterly cute and loving in Dostana. Abhishek and John do make the best couple in the movie and they sure did take all the attention to themselves.
2 – Shahrukh Khan and Deepika Padukone
After "Om Shanti Om" jodi of Shahrukh Khan and Deepika Padukone have once again proved it that they have an amazing on-screen chemistry in the song 'Love Mera Hit Hit'. They just looked absolutely wonderful together.
1 – Akshay Kumar and Katrina Kaif
'Singh is King',' The "Namaste London" couple are the best onscreen couple so far seen in Bollywood. Although, many had an outrageous reaction to the Akshay and Karina's duo being seen in many films together such as Salman Khan, but yet nothing changes the fact that they look adorable together.