Style enthusiasts are always in the search of discovering latest and newest style trends. They are always trying newer things to quench the style thirst of many out there.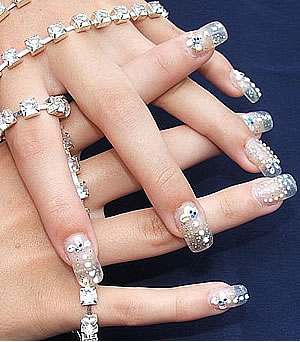 With so many newer trends being seen today, nail designing and nail sculpting is on the fashion rage nowadays. Previously, seen more common in Korea and Japan, today, this fashion craze is spreading like forest fire all across the globe. Nail designs is now a common practice seen in the styled-up models on the runway.
Nail art is the hottest craze in town! Some consider nail design as a part of self-expression. For some, some enjoy pampering themselves by going to salons and getting their nails beautifully designed with artistic patterns.
Nail Designing isn't at all a tough job. Anyone can try it at home, even you. All you need is a creative sense and the following tips to get you in the mood for sculpting:
Stickers
Who said stickers are just meant for little kiddies who get fascinated with the colors and images?! Stickers make a perfect design and without much effort. Just get some cute nail stickers for yourself. To get on with it, first a regular manicure would do, but do not apply the transparent the coat just yet. Put the sticker on each nail and then apply a fresh coat for transparent polish. Applying two coats would be perfect.
Nail jewelry, brightstones, rhinestones and pearls
Nail jewelry is another embellishment for a perfect look. Simply follow the above mentioned steps with the stickers, or even some brightstones. Nail jewelry is easily available and gives a fine trendy look. Also, try rhinestones, pearls etc. adding these gemstones would give a glamorous look to your nails.
To add a more sparkling touch, try glittery nail polishes. Otherwise, you can also use loose glitter.
Design with colors
This is the oldest and infact the richest in creativity technique in nail designing. You can easily do it using different nail polish shades and create various patterns and figures on it. It's not necessary that French manicure can only be done by applying light pink or white. You may use brighter richer shades as well. This method is one of the easiest and most convenient in nail patterning.
Use your strong imagination for creating designs or you may check up on the nail designs available and try to create something of your own, after getting inspired. You may check up the designs for weddings, parties etc, as you will easily get hold of designs for various occasions on the Internet.
Discover your creativity and put it in use in a glamorous sassy way. Get yourself in the trendy spirit and give an exciting new face to your ordinary and pale looking nails. How about get started right away?