The tender feeling of running your hand on a soft velvety texture and tastefully woven rug is enough to captivate the aesthetically inclined. Nothing can fascinate the eyes than a fashionably designed oriental Turkish rugs.
Although, there exists an ambiguity in its origin and where the art of Turkish rugs began being practised first, but it is true that this art is an anceint one. infact, it's as old as the hills of Anatolia.  it is thought that Central Asian Turks, who settled in Anatolia brought the art to the region. In the 13th century, Turkish rugs gained popularity owing to the Selcuks and then was further refined during the period of the Ottomans, who added the distinctive 'Palace style' to it.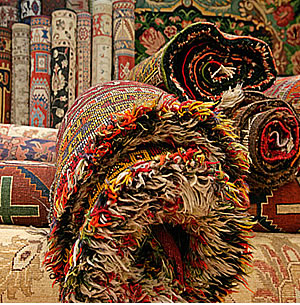 Here are a few interesting facts about this oriental art:
•    Materials used for the preparation of these outstanding rugs usually include silk, pure wool, wool on cotton, and viscose cotton, using both vegetable and chemical dyes. Though vegetable dyes follows the traditional method of making it.
•    This art is retained in Hereke, near Istanbul. World's finest silk rugs are weaved here and it traces back to the Ottoman period of rule.
•    Today this art is only preserved in turkey and employ all the weaving techniques including kilim, cicim, zili, sumak.
•    Earlier, there were certain basic colors which were used with floral and geometrical motifs, but later on, animal motifs became a distinct quality and gained popularity during the 14th and 15th century.
•    The Ottoman style rugs drew on rather naturalistic techniques of showing sinuous branches, leaves, tulips, hyacinths and carnations, among other various patterns and designs.
•    The usage of Rugs has advanced over the years. In earlier times, it was restricted in public places, rather more expensive places were seen decorated with Turkish rugs but today every person, with a strong passion for art prefers to decorate their homes with this exotic masterpiece. Whether in the bedroom or drawing room, it enhances the look of your home brilliantly.
•    With the arrival of glass top tables, Turkish runner and rugs are considered more stylish and tasteful, even decorated on glass tables.
•    The price ranges from PK. Rs 5,000 for a rather smaller rug and goes over PK. Rs. 100,000 for a larger and more intricately woven silk rug.