If exercise seems too tedious and monotonous to you and you can't pertain to show persistence in it, then why not try something more interesting and fun to do. Ever thought of trying Belly-dancing to lose weight and burn extra fat? Yes, this is true. Belly Dancing, infact, serves as one of the best ways to lose extra pounds and acquire a beautiful feminine figure.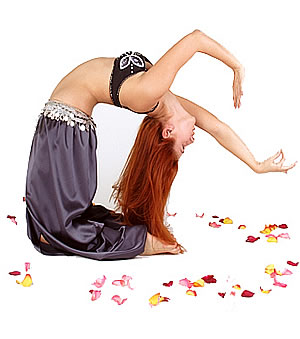 Imagine doing a workout which is entertaining and easy to learn and easily helps you lose that flabby tummy and shape up beautifully. And with Belly dancing it is so true. The tips are simple. Eat healthy food, try recipes with less calorie count and suitable for dieters and contribute 1 hour of your precious time to Belly-dancing. And so they say 'Health is wealth', so cherish yourself and your body.
Belly dance mostly employs circular motions of the body, isolated in one part of the body; for instance, a circle corresponding to the floor isolated in the hips or shoulders. A belly dancer makes an outstanding motion in her shoulders or hips are common, which can easily we done depending on the body's flexibility and twisting one's belly muscles. Although, originally, Belly dancing also incorporates balancing of different props say baskets, swords or canes, and dancing with chiffon or silk veils. Now, this entirely depends on how you want it.
The origin of Belly Dancing is actually uncertain, but there are several different stories behind its origin. Some say it descended from Middle East and some believe it takes it roots from Greece from the period of Alexander the Great. Belly-dancing is thought to have taken it's descend from a religious dance Temple Priestesses from ancient times. According to some, it had spread from the immigrations of the gypsies and related groups, coming from the Banjara of Rajasthan in northwestern India while, it is maintained by many that Uzbekistan is the place of its birth. The bottom line is, whichever place it began from and whoever started it, it sure is helping us today and we thank the person who gave us such a unique form of dance and entertainment, plus, exercise to remain fit.
The exquisite body movements in belly dancing make an excellent workout. In belly dancing, it's your entire body in motion. So, if you haven't yet considered starting an exercise, then take the initiative with working out through Belly dancing.