With the onset of February, there is only one thing can comes in mind – VALENTINE'S DAY. For people in love, Valentine's Day is a holy day, when the magic of romance and love envelops everyone in a cloak of love and warmth. It seems as if after struck by Cupid's arrow, people are conquered by the allure of love on Feb 14th and gained the power of expression of love for those they hold dearest in the entire world.
A seemingly conventional society, Pakistanis, too, now obsessively celebrate Valentine's Day and have marked the date in red on the calendars, never to forget that this day which symbolizes the day of love and passion. For some it's the day of love, and for some it is a business-profiting day. Florists, confectioners, stuffed-toys sellers earn twice as much, owing to the high prices they put up, knowing that for love enthusiast, price matters the least this day.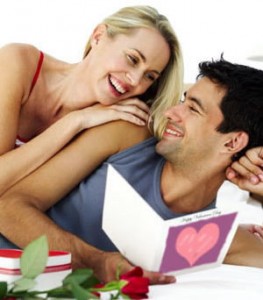 All one can think of is trying something different and special for this day. But, deep down, the most important constituent of making this day as special is 'feelings'. At the end of the day, feelings count the most, wrapped up in a lovely red packing with bows and ribbons placed in a basket of love.
Here's a list of less expensive things you could do for making your Valentine's Day better than any other day:
1. Ever thought of making cards? Hand-made cards make a lovely surprise. E-cards sound so convenient but there is a personal link missing in them. Make a card with lots of hearts and roses on it. Don't worry much about your drawing. Remember, it's the thought that counts!
2. Dress up for the occasion. For women, a sexy red dress with would be perfect. In fact, taking a red bag along won't make you look like a 'paindo' sight so yes, it's OK to take a red bag along and not feel embarrassed about it. as for men, red shirts, ties or socks can work just fine. It's Valentine's Day, after all. Its red everywhere!
3. Stuff toys make a good gift. But please, avoid giving teddy bears as big as yourself! That's too 'over the edge'.
4. Dedicating nice love songs make a sweet surprise. Here is what another thing you can also: get the best collection of love songs burned in a CD and give it along with the planned gifts. It's an old method, but works fine.
5. Buy heart-shaped chocolates, cakes or even bake hard shaped cookies, wrap them up in a lovely red and golden/silver wrapping and frilly ribbons and present it your loved one.
6. And if all this doesn't work for you, flowers have always depict the story of love in better ways than anything. Make a nice bouquet of red roses, twine a red ribbon around them and make a big bow.
Make this Valentine special for the one you love. Cherish the moments you spent together and strengthen your relationship further.
Have a wonderful Valentine's Day!