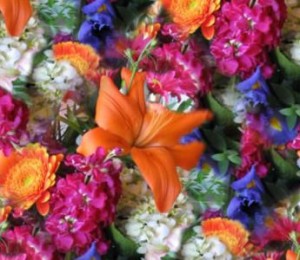 We all know that the internationally celebrated & most important occasion of this month, February; Valentine's Day is coming.
Colors play really very important role in our everyday life, especially when they come to your 'Valentine'. Many youngsters wear different colors on this day according to the massage they want to convey through their dress code. Also many give the flowers of different colors to some people because they want to express their feelings to them.
We will tell you about the meanings and hidden feelings behind some colors. There is always some reason or psyche for someone to wear to any particular color or to give as flowers.
First of all we will start from the hottest red color. Well it's not wrong, if we will say that Valentine is just incomplete without red color.
Red color is the symbol of romanticism and love (hearts), especially when it comes to flowers. Over all this color gives the impression of passions, energy, strength, deep emotions, excitement, celebration, joy, happiness, sexuality, liveliness, purity, and sometimes gives the impressions of power, courage, bravery, leadership, force, aggression and even danger. Nothing to worry about these meanings, it simply means that red color represents the strongest height of emotions………………
Orange color represents the signs of desire; especially orange rose specifies the signal desire. Orange color is a warmth color and represents balance, goal, ambition, justice, action, intense, attention-grabbing, charity, growing things, friendliness, emotional lift, social force, health, mood lighting, independence, etc. this color is more popular among those youngsters, who want to prove their existence or presence. Some says that it stimulates mental activities & sharpness to some extent.
Orange also use in highlighting important issues or images. In short we may say that orange color represents the thrust to achieve something.
When we think about Pink color, we feel something soft and delicate. This is the reason that this, particularly baby pink color mostly refers towards, the babies and feminism. Pink flower represents the gratitude, sympathy and admiration. Pink also represents love, romance, femininity, truth, good-will, affection, care, sweet tasting & smelling, emotionally healing things or matters etc.
Yellow being the color of the sun, represents some hope, a ray of some hope, intelligence, light, learning, joy, friendship, happiness, honor, royalty, wisdom, clarity of perception, understanding, dreams, creativity, curiosity, confidence, clarity, desire to improve, idealism, glory, enlightenment etc. On the contrarily, this color, sometimes means something strange like, jealously, uncertainty, restlessness etc.
We will tell you about more colors in our next part so, wait and be ready to learn & enjoy about some other colors.