Ramchand Pakistani wins the FIPRESCI Award from the International Federation of Film Critics. This movie is derived from a true story concerning the accidental crossing of the Pakistan-Indian border during a period (June 2002) of extreme, war-like tension between the two countries by two members of a Pakistani Hindu family.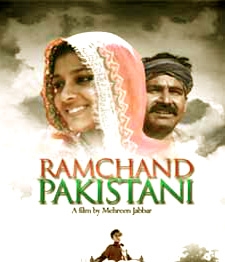 The film was marvelous! The story was rich and multi-layered. The subject matter was handled expertly, with careful nuances and attention to detail. It was moving without being melodramatic. Each and every character was well-cast and they developed nicely in the course of the film. An individual (or rather several individual) human drama(s) were seamlessly and simultaneously portrayed, free of sentimentality, unfolding within larger geo-political events, without allowing any one to overshadow or drown out the others; more interestingly, without making this into an 'issue-centered' film even though it was heavily loaded. The way in which daily life details, migration patterns, etc. were woven into the whole was great. The cinematography was beautiful and captured the vastness and the spare beauty of the Thar desert, including the wonderful architecture of the abandoned temples. The music was well-selected and it complemented all the other aspects of the film.
All in all, I loved it!!