Applying makeup is not rocket science and all of us can do it like a pro if we set our minds to it. All we have to do, is to know some basic rules and some easy tricks.
Makeup should be used as a tool to accentuate our strong features and camouflage our problem areas so that we look fresh and vibrant. The best make-up is that which doesn't make us look Made Up and fake.
 There are some important points that we should keep in mind before starting:
The key to good makeup is good skin because good skin provides a smooth and radiant base for makeup. And Key to having good skin is keeping it clean and hydrated.
Less is good especially when it comes to using foundation, concealer or even eyeliners.
Using good quality products from well-known brands gives very good results when applying makeup.
Investing in some good quality Makeup brushes is essential if you want results similar to makeup applied by a professional makeup artist
Makeup for day time is very different from makeup for night time and we must apply makeup keeping this in mind
Base your makeup on accentuating only one feature at a time. If you are going for heavy makeup on your eyes then keep your lips simple. And if you want stand out lips then keep your eyes simple
Having cleared the basic things about makeup let's get started with the Simple "Five Step Guide" for application of makeup. This works for all skin types like oily, dry or mixed skins. The five steps of our guide are:
Step 1- Face Prep and application of foundation
Step 2- Eyebrows and eye makeup
Step 3- Face contouring and Highlighting
Step 4- Lip Prep and application of lip color
Step 5- The final step
STEP 1 – FACE PREP AND APPLICATION OF FOUNDATION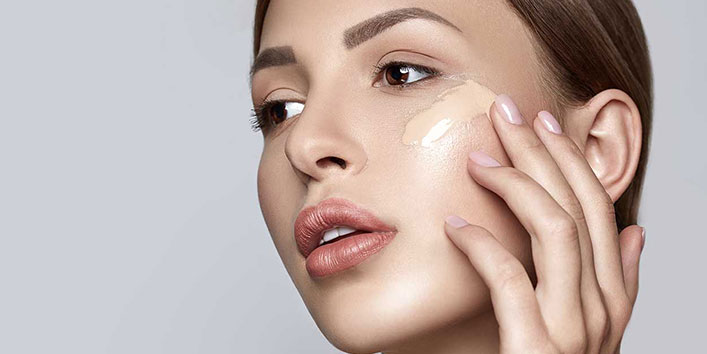 To get that oh so dewy look and flawless complexion we have to prep our face and create a perfect base on which makeup can be applied.
 Things needed for Step-1 are:
Facewash
Serum or moisturizer
sunscreen
Primer
Foundation
Concealer
Compact or Setting powder
We must always apply our makeup on a clean face. So, every time you want to do makeup wash your face with a face wash that suits your skin.
After washing the face gently pat it dry and apply a moisturizer or a serum all over the face and neck area. Both these products help in hydrating the skin but serums usually work better as they have the potential to go deep into our layers of skin and produce remarkable results when it comes to hydration.
Apply a layer of sunscreen once done with moisturizing and make sure that you just dab it on our face smoothly and not rub it in.
Sunscreen application must be followed by application of primer. Primers work wonders by creating a layer of protection around our prepped skin. These also give our face a smooth finish by hiding any problem areas like uneven skin tone and fine lines. Always give sufficient time for your sunscreen and moisturizers to dry then apply a thin layer of primer.
Once primer is done it is time for application of foundation. Foundation. Foundation must be chosen very carefully as it can make our mar your look. It must be very light and must glide on the skin. The color of foundation must match your skin tone perfectly for that glowing natural looking complexion.
After applying a nice well blended layer of foundation check for any areas which may still need more coverage.  Blemishes, dark spots or under eye circles usually need more coverage. To give smooth finish to these troublesome spots apply concealer.
 Always apply concealer with a brush and very lightly and only on troublesome spots.  The concealer should always be a shade lighter than your skin tone. In you have oily skin finish off your foundation application with a few dabs of compact or setting powder which is a perfect match to our skin tone after foundation.
STEP 2 – EYEBROWS AND EYE MAKEUP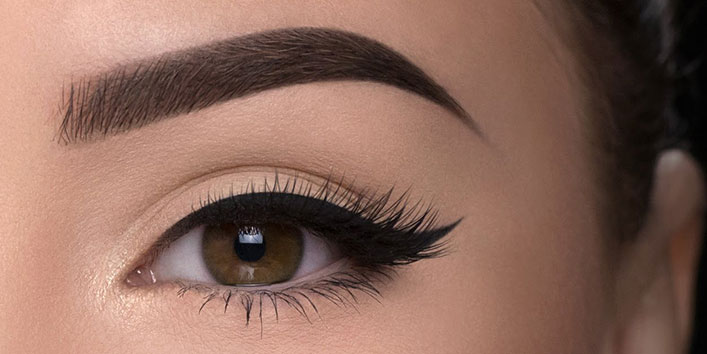 nce done with creating the perfect base we must proceed to Step-2 which includes eye and eyebrow makeup.
Things needed for this step are:
Eyebrow pencil
Eyebrow kit
Eyebrow highlighter
Eyeshadow primer
Eyeshadow kit
Eyeliner
Eyelash curler
Mascara
False lashes
Eyebrows that are thick and shapely dramatically change the way we look. If blessed with thick eyebrows then all we can do is get those beauties in shape using eyebrow wax, thread or tweezer.  And if you have thin eyebrows you can accentuate them
For creating thick natural looking eyebrows lots of products are these days available in market. You can use eyebrow pencils or eyebrow kits. The eyebrow kits have cream as well as powder to darken our eyebrows. Then you can finally use setting gel which will set them and also make these smudge proof. Once done darkening your eyebrows enhance them by putting a highlighter underneath them. Apply the highlighter with the help of our index finger. Once eyebrows are done, we can start applying makeup to our eyes.
EYE MAKEUP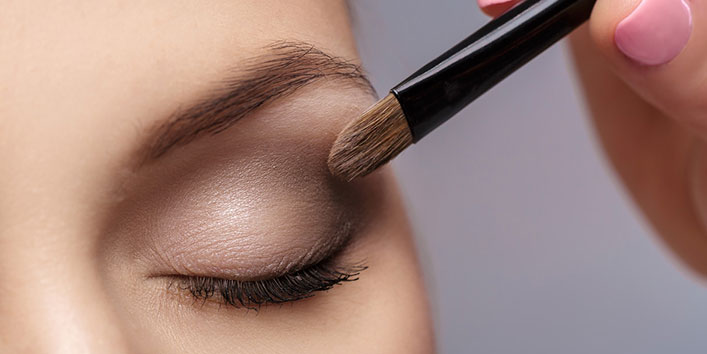 Start your eye makeup by applying eyeshadow primer to create a smooth base on your eyes.  Now apply eye shadow of your choice which may be in cream form or powder form.
If your eyeshadow is cream based apply with your index finger and if using powder shadow work with the eye shadow application brush. First apply on the inner corner of the eye and then go outward. Once done applying eyeshadow, line your eyes with an eyeliner to enhance them. Eyeliner must be applied on upper lash line as well as the lower lash line.
We can use Kohl pencil, liquid liner or even gel eyeliner.
Use an eyelash curler to curl your lashes and then apply mascara for that wide-eyed look.
If you want more attention to your eyes use false Lashes and darker eyeshadows.
STEP 3– FACE CONTOURING AND HIGHLIGHTING
After doing eyes, we must move on to cheeks which is the logical Step 3.
Things needed in this step are:
Matte shading cream or powder
Highlighter
Blush
Fan brushes
Contouring and highlighting is all about enhancing our cheekbones, shaping our face to trick the eye.
Contouring
 To know where to contour on your cheeks or to find the area where to put contouring cream, suck in your cheeks you will get the area where to put a thin line of contouring cream.  Start for top of the hollows inward and stop about an inch from your mouth. Once the line is drawn blend well with your fingers or with the help of a sponge or a brush. For contouring your nose, draw two lines from the start of your eyebrows to the tips of your nose along the bridge of your nose on both sides and then blend smoothly.
You can use both cream or powder for contouring depending on your preference.
Also use a contouring cream or powder that is just one shade darker than your skin tone. It is very important to keep our face shape in mind while contouring and work accordingly.
Highlighting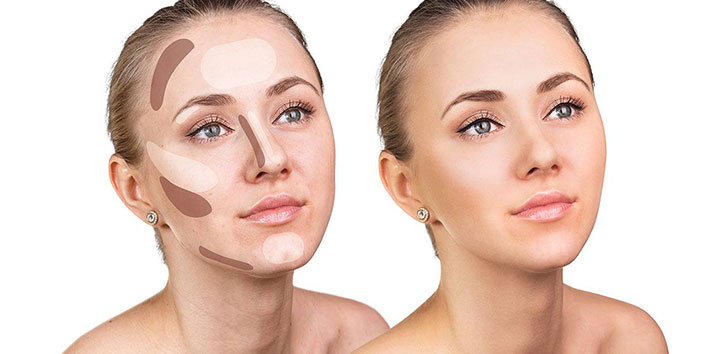 Highlighting is essential when you are contouring but we must not overdo it. Just a little on our cheekbones, brow bones, center of chin and just one bit on the tip of our nose.
Highlighter should match the color of our skin and should have a little bit shine. Highlighters just like other products can be in liquid form or powder form. Liquid highlighters work really well as these looks more natural and are easy to apply. In case you prefer a powder highlighter then always apply it using a fan brush. These brushes have few bristles and are soft and their shape also lets us really control the application of highlighter.
Blush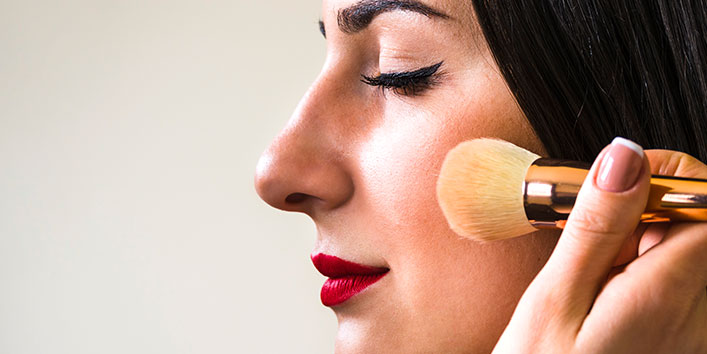 Blush is an important part of makeup and a bit of rouge or blush instantly adds vibrancy and color to our complexion. It gives us a lively, rosy fresh look. No overdoing it is the key. Cream blushes must be applied with the help of our fingertips while powder ones with the help of nice fluffy brushes.
STEP 4 – PREPPING OF LIPS AND LIP MAKEUP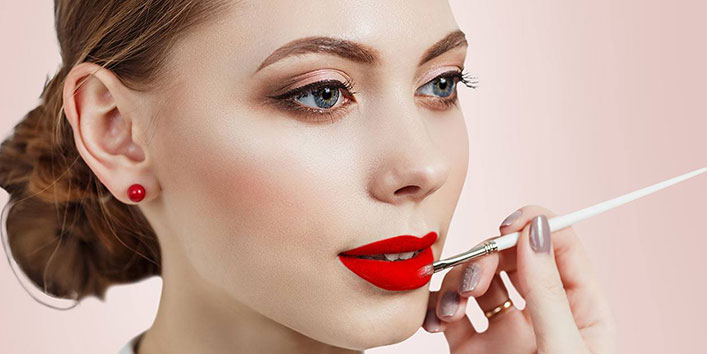 Last but not the least comes lip makeup and this is our step number four. The things we need in Step 4 are:
Lip Scrub
Lip Balm
Lip Mask
Lip Primer
Lip liner
Lipstick
Lip gloss
Soft tissues
The first secret of getting those supple and plump lips lies in how we prep our lips. Prepping includes exfoliation and hydration of lips. Exfoliation helps remove dry and dead skin and it is usually this dead skin that makes our lipstick look rough and uneven, so we must remove it before we apply any color.
Exfoliate lips twice a week using a good lip scrub.
Use Lip mask twice a week to hydrate and moisturize your lips.
Apply a good quality lip balm on lips with the help of ring finger.
Once our lips are prepped, we must wait for a minute or two and then apply lip primer. Applying a lip primer helps give good finish to our lipstick and helps the lip makeup stay for long. In case you don't have a primer, you can use your foundation instead. It also works fine.
Now use a lip liner to line your lips. For a natural look we must line our lips according to our natural lip line. For fuller looking lips you we can go overline but we must do it with precision and care. Now fill your lips with the same lip liner but do it very lightly.
Apply lipstick or lip color. Blot your lips with a tissue to remove excess color. Adding a bit of gloss in the center of the bottom lip makes our lips look plumper.
STEP 5 – FINAL STEP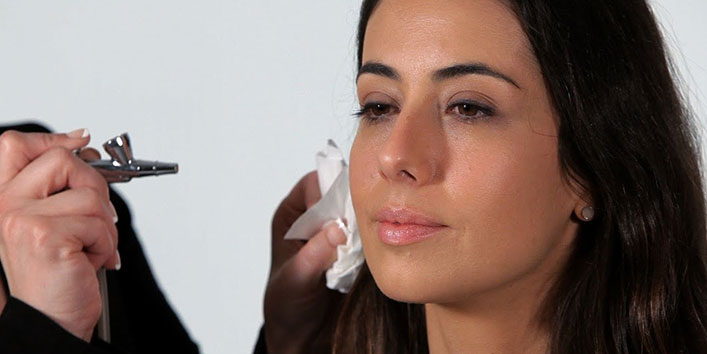 Finally, always take time for step 5 which is using a setting Spray. This step is very important as setting spray makes our makeup stay put and gives a dewy look to our face.