With so many summer weddings around the corner, girls get the desire to fill their wardrobe with miniskirts, shorts, and cute summery floral and printed short dresses for their honeymoon. But can not do as their dark knees stop them from flaunting their summer wardrobe.
The darkening of the knees basically is due to the accumulation of dead and hard skin around them. This can be due to exposure to the sun, genetic reasons, being overweight, and hormonal imbalances.
Are you one of the soon-to-be brides getting married this summer with dark knees? Well, if that is the case with you too, then your worries end here! Following these few simple steps using some ingredients right from your kitchen, you can actually get rid of darkened knees in no time! So, here is a step-by-step guide for you to do just that!
#1. Aloe Vera
Aloe vera has natural soothing, pigmentation-removing, and lightening properties, here is the best way to use it.
Extract the gel fresh from an Aloe vera leaf.
Gently massage it on your knees for 10 minutes
Wash it off afterward with cold water.
#2. Besan with Lemon
Lemon is the cheapest and best solution for skin lightening, while besan (gram flour) helps to scrub away dead skin.
Just mix two tablespoons of besan with juice from half a lemon. To this, add either oatmeal powder or a little bit of crushed almond powder.
Apply it to the knees and leave it on for five minutes. Then scrub your dark knees with this paste and wash off with normal water.
Repeat every alternate day.
#3. Sugar and Olive Oil
Olive oil too helps in skin lightening, and when combined with sugar it gives the perfect bleaching effect, as sugar is a natural exfoliator.
Mix equal quantities of both and let the sugar dissolve properly.
Apply this on the knees in circular motions and leave it to work its magic for about 10 minutes.
Wash it off after you bathe later.
#4. Coconut Oil
Followed for ages, coconut oil is by far the best solution for skin lightening and pigmentation removal.
Just mix a pinch of camphor powder into the oil and massage your knees with it daily.
You can also massage them just with coconut oil twice a day.
The results will be astonishing!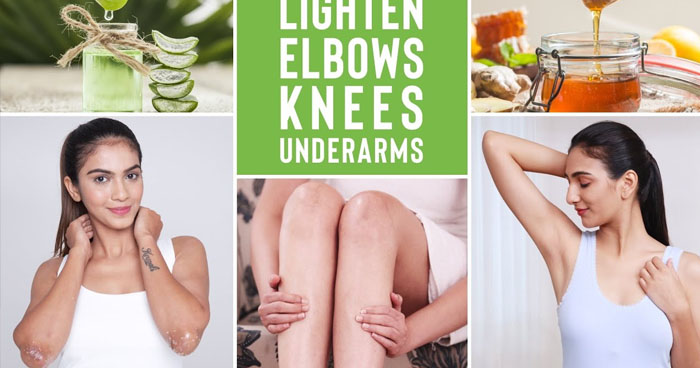 #5. Pudina (Mint)
Mint has excellent anti-inflammatory properties, also some essential oils that are capable of clearing off dead skin around black knees.
Take half a cup of water and boil a handful of mint leaves in it.
Let the water cool. Strain it, and keep it aside.
Now to this strained water, add some lemon juice and apply it to your knees using a cotton ball.
And wash off your knees whenever you take a shower.
#6. Baking Soda
Being a natural cleanser, baking soda helps in scrubbing the dead skin off the knees and cleanses it to get a lighter skin tone.
Mix a spoonful of baking soda with milk to form a paste.
Rub it on your knees and leave it on for 10 minutes
Wash your knees after that with regular tap water and follow this routine every alternate day.
#7. Honey, Turmeric, and Fresh Cream
Rooted with antiseptic properties, turmeric acts as bleach when mixed with milk, and honey is a great moisturizer for dry skin. Together their natural properties help to peel the dead skin and get rid of dark knees.
Just make a paste of the above three ingredients and apply it to the knees.
After letting them be for 10 minutes, massage and wash off with lukewarm water.
You can also use milk instead of fresh cream.
#8. Yogurt
A natural moisturizer for dry skin, yogurt is enriched with properties to give your knees an even skin tone.
Just add a teaspoon of vinegar to three spoons of yogurt and mix it well to form a thick paste.
Apply this to your knees and massage it for five minutes.
Let it stay on for another 10 minutes and later, wash it off with regular tap water.
You can mix the yogurt alternatively with besan as well and repeat the same procedure.