The collaboration with Charles Jeffrey Loverboy is the first in a new series of creative partnerships spearheaded by Wedgwood's creative director, Alice Bastin, who joined the heritage manufacturer last year.
Charles Jeffrey Loverboy, known for his subversive, culturally diverse and gender-inclusive creative narrative, was given an open brief to reimagine and recontextualise Wedgwood's creative codes. The result is a bold and colourful reworking of 22 carefully curated pre-loved Jasperware pieces, individually decorated in the designer's distinctive graphic and illustrative style and hand-glazed.
The limited-edition collection of paint splash crockery features plates, teacups, jugs, sugar pots and hand-decorates teapots, all of which are one-of-a-kind works of art.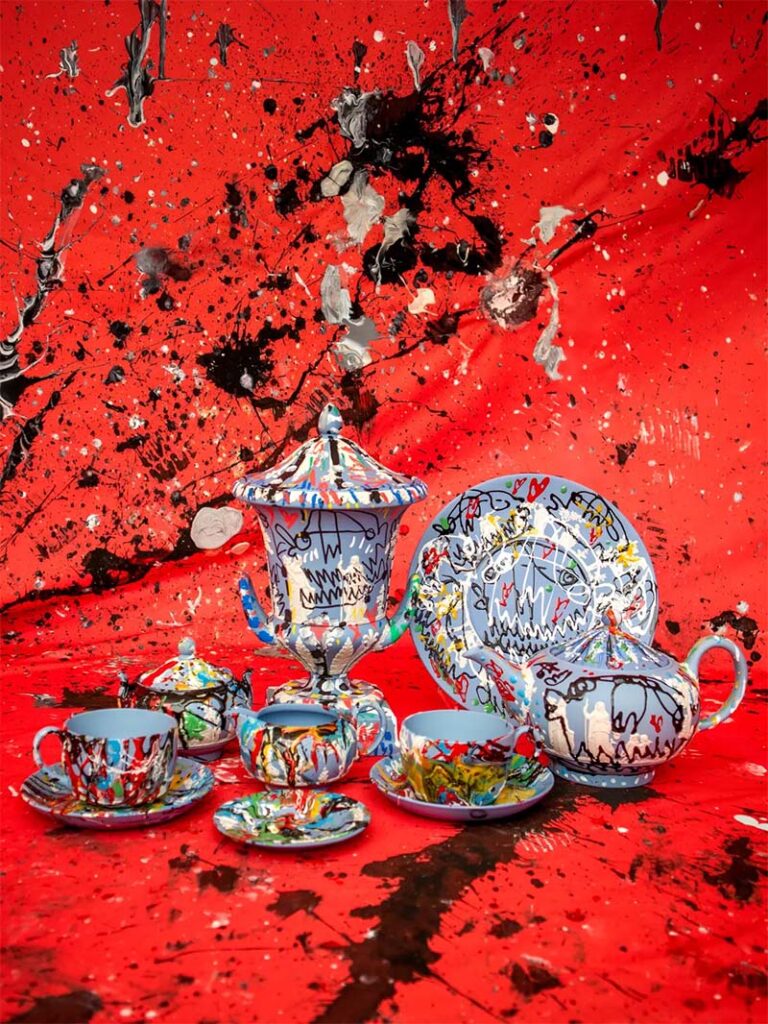 Commenting on the collaboration, Bastin, said in a statement: "Throughout its illustrious history, Wedgwood has opened its doors to many revered artists. Art and creativity have always been at the core. Our new vision is to reinstate Wedgwood as a creative hub for artists, welcoming mavericks and thought leaders to express themselves freely through Wedgwood.
"It simply had to be Charles to start this new movement. Charles Jeffrey Loverboy reflects a freedom of expression, optimism and authenticity in his multidisciplinary approach which juxtaposes perfectly with Wedgwood's iconic jasperware."
Charles Jeffrey, creative director of Charles Jeffrey Loverboy, added: "Collaborating with Wedgwood has been an incredible journey which allowed us to fuse music, art and craftsmanship into a bold and transformative experience. We not only had the opportunity to reimagine Wedgwood's iconic jasperware but also to infuse it with our own distinctive creative voice.
"Upcycling pre-loved Wedgwood jasperware became a medium for us to breathe new life into these cherished pieces, adding a unique touch and vibrant, expressive energy. Wedgwood's trust and support in letting us unleash our creativity without limitations is something we deeply appreciate. This collaboration embodies the spirit of innovation and mutual collaboration, where boundaries are shattered and new narratives are crafted. We are grateful to Wedgwood for providing us with this platform to push the boundaries of art, music and design and create something truly extraordinary."