Jannat Mirza is one of the most followed TikTok stars in Pakistan with more than 20 million followers. The social media star was in a relationship with TikToker Umer Butt for some time and both shared amazing chemistry. But it's over now!
Taking to Instagram on Wednesday, Umer Butt announced his breakup with Jannat Mirza. Umer Butt said that they mutually decided to part ways.
He wrote, "Hi guys I think you all need to know this. Both, me and Jannat are not together anymore it was a mutual decision and I would like you guys to respect our privacy and give us some private space. May Allah bless us with what's better for us ( baqi jo Jisky haq main behter hoga Allah usy naseeb kry). Thank you so much, everyone."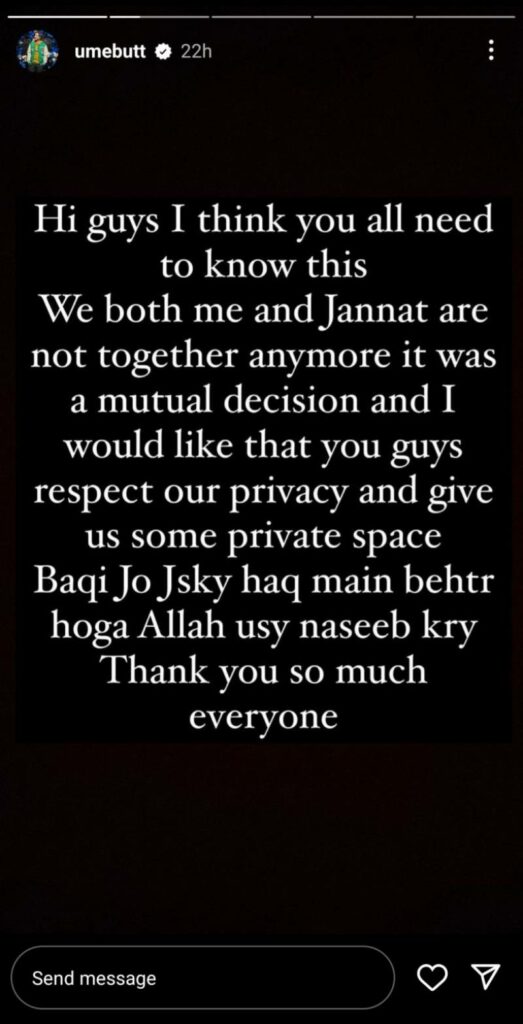 On the other side, Jannat Mirza also posted a story containing a quotation by M. Sosa, related to the breakup. It read, "He threw it all away. Everything I thought he was, everything I thought we were building, everything we promised one another… down the drain, over things that could've been avoided. All because he became infatuated with the attention he was getting from other women instead of taking care of what he had at home.
I saw the changes in his behavior, but I chose to ignore them because I refused to believe he would ever lie or betray me. And in the end, I regret not listening to my gut. Never again will I allow my emotions to overpower that nagging feeling when something doesn't feel right. Pay attention to the red flags especially when they hurt."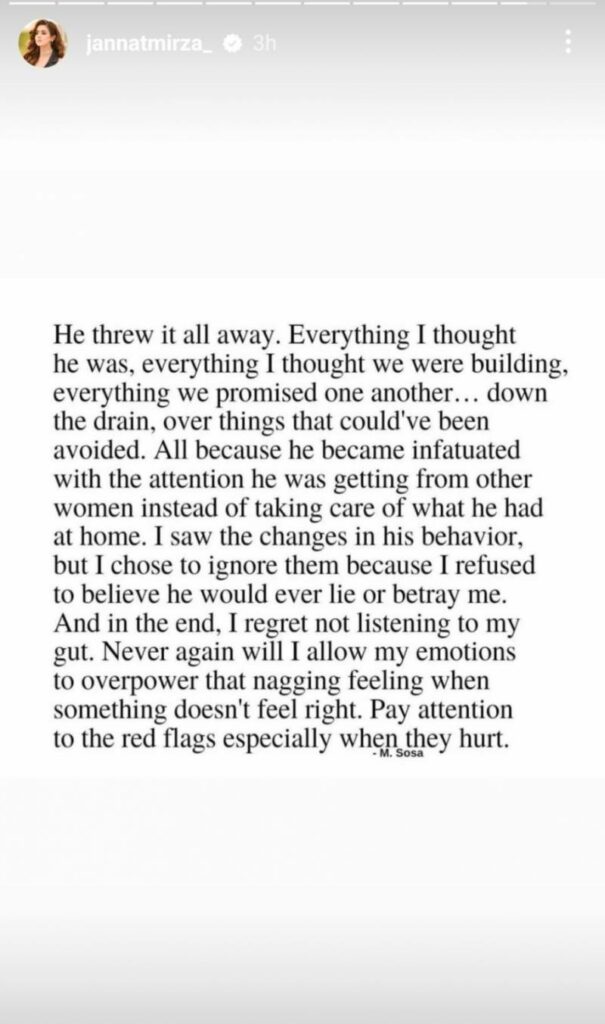 We invite you to subscribe to our Google News feed for showbiz updates and stories about actors. Furthermore, you can read the latest showbiz news and stories on our website or follow us on Facebook.