Young sensational Pakistani drama artists have invited an ocean of appraisals from their fans and followers on social sites. The users have objected to the overly spendthrift wedding festivities of the couple that trailed from bridal shower, dholki, separate mayoon functions, dance party to mehndi last night.
Few weeks ago, TV personalities Aiman and Minaal Khan took to Instagram to share few pictures from their wedding festivities. It has almost been a month and new announcements and social media updates related to their wedding haven't stopped coming in.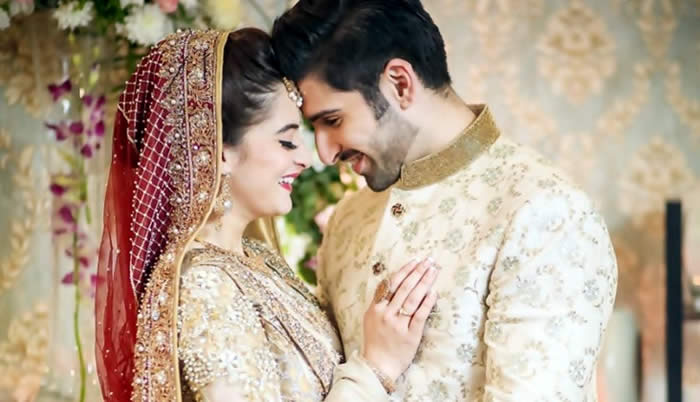 Rumour has it that the couple will also host a baraat and a reception. As more and more pictures roll in, people on social media haven't refrained from calling out the actors for their marathon wedding.
Here are the most hilarious tweets regarding #Aineeb's wedding
Dunyaa se Pani khatam ho jayegaa likin Aiman & Muneeb ki Shaadi nai ?#Aineeb #Pakistanmedia

— Ateeb Rehman (@Eeebbooo) November 28, 2018
Yahan ek shaadi key function main janey par doston ko maut parti hai aur wahan #Aineeb key dost unkey 50 hazar functions attend kar chukey hain. #SaachiYaari

— Bushra Joyo-Gandhi (@filmyjoyo) November 28, 2018
9 events yar. Matlb had hogai hai#Aineeb

— S. (@SaimaKhan___) November 28, 2018
New hashtag for #Aineeb wedding: #TheNeverEndingWedding https://t.co/SNBWIGLKHc

— Unberryin Heather (@ambreenhaider01) November 27, 2018
The #Aineeb nausea pic.twitter.com/Id0b9wXMwl

— Unberryin Heather (@ambreenhaider01) November 27, 2018
I think this Aiman Muneeb wedding will go on till 2019 on instagram haha

— HafsaS (@HafsaShorish) November 24, 2018
so when is aiman and muneeb's wedding coming to an end? ? #Imoverit

— Axb0 (@axb02) November 27, 2018
year 2050 : You open your instagaram still aiman muneeb wedding ceremonies are keep going

— JJ (@jawad_jamshaid_) November 27, 2018
Aiman and Muneeb tied the knot in an intimate ceremony with few friends and families. The nikkah ceremony was followed by inidividual mayons, a wedding party and a combined mehendi.