Syra Yousuf, who made her acting debut in 2012 after appearing as a VJ on MTV Pakistan, followed by her numerous modeling stints, became a household name in the local entertainment industry.
With her voluminous hair, contagious smile and bubbly personality, she broke many hearts after marrying fellow actor Shehroz Sabzwari.
And when their marriage failed to work out, many of her past admirers reemerged, offering their condolences while claiming 'she can do much better'. Likewise, many fraternity members also uplifted her spirits, while she remained silent amid the controversy that surrounded Shehroz and his now wife and then acquaintance Sadaf Kanwal.
But recently, after Syra made an appearance in Atif Aslam's music video for Raat, a picture of her went viral on social media, making her the subject of shame for her unfiltered skin.
Syra's sister, Palwasha Yousuf, who's also a hairdresser and stylist, shared a photo of the makeover Syra received from her salon on her Instagram page. The photo projected Syra's unfiltered, textured and naturally beautiful skin, which unfortunately, became the subject of mockery by people whose visions had been tainted by our virtual world's unrealistic beauty standards.
Being more than just a pretty face, Syra has often walked her talk with her acting, modeling and hosting gigs. Even as she modeled alongside Sheheryar Munawar in what was the dubbed the 'hottest shoot ever', many lauded her for making a strong comeback after years of keeping away from the spotlight during her marriage.
But now, as she embraces her natural self, many went as far as saying, "Is pic se kia sabit krna chahte ho ke shahroz ne sahi kia....(what are you trying to prove with this picture, that Shehroz did the right thing?)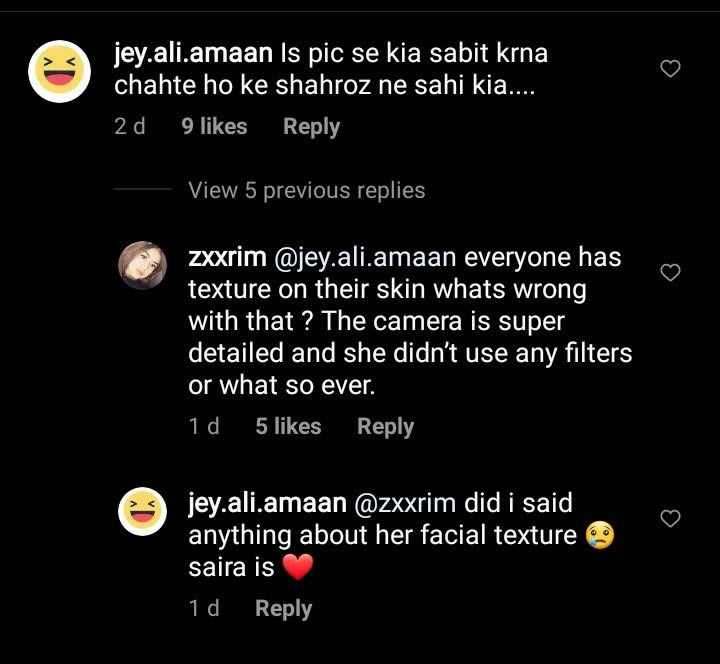 Another took a tasteless jibe saying, "Uff zoom hoagaya ghalti se, kya haal kiya hua hai skin ka bibi ne (I zoomed in by accident, what has she done to her skin)." One more commented, "That is some awful makeup!" while a user added, "I think they forgot to photoshop!" One comment also read, "Ohh, so close to being budhee (old)."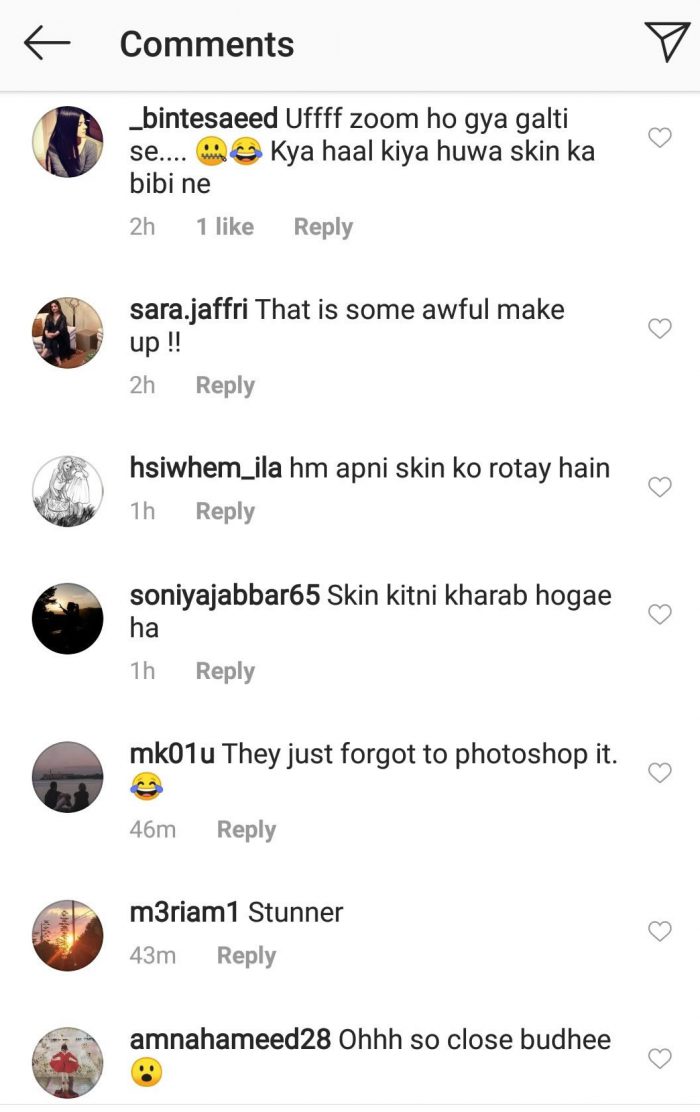 And then some Twitter users also defended the bullies by accusing the celebrities of selling a photoshopped version of themselves for far too long. "Seems like a massive over reaction," wrote a netizen. "Comments are not insulting [her]. [They are] making good points about make up ruining skin in the long run and celebrities often using photoshopped [pictures]."
This picture of Syra Yusuf was posted on Instagram and I was genuinely so glad to see the textured skin because this is how skin is supposed to look like. Then I read the comments & got so disappointed. And the fact that these comments are actually posted by girls, it's pathetic. pic.twitter.com/gZSOglXKsb

— Maryam (@BefourMaryam) March 1, 2021
One more chimed in, "Don't mind but fault is on their part only, they always show the perfect side of their self, heavy makeups to look perfect and then some not educated ones start assuming they're perfect."
But several still defended the celebrity who chose to look at the bright side. Taking to her Instagram after the unabashed comments, Syra shared a barefaced photo of herself on her stories and wrote, "I really like my skin #nofilter." Her contagious smile, once again, took the spotlight off of the negativity as she continued to endorse her sister's unfiltered projection of herself.
So to all the bullies, one should not attach shame to something so real and harmless. Mocking someone's physical appearance is what prevents them from presenting themselves as they are. And when society fails to accept the reality of its flesh, the truth will always be masqueraded by layers of filters and fabricated features. Kudos to the Yousuf sisters for embracing their realities and owning their skin!