Sania Mirza and Shoaib Malik are long rumored to get separated from each other, however, the couple hasn't officially announced anything yet. Amid all the hearsay, the former Pakistan cricketer's Instagram bio has now grabbed attention.  A part of it reads, 'Husband to a Superwoman @mirzasaniar'. 
Now that definitely doesn't suggest that things are not going well between Shoaib and Sania. The couple will also be seen together in the upcoming OTT show 'The Mirza Malik Show'.
Look at the screenshot: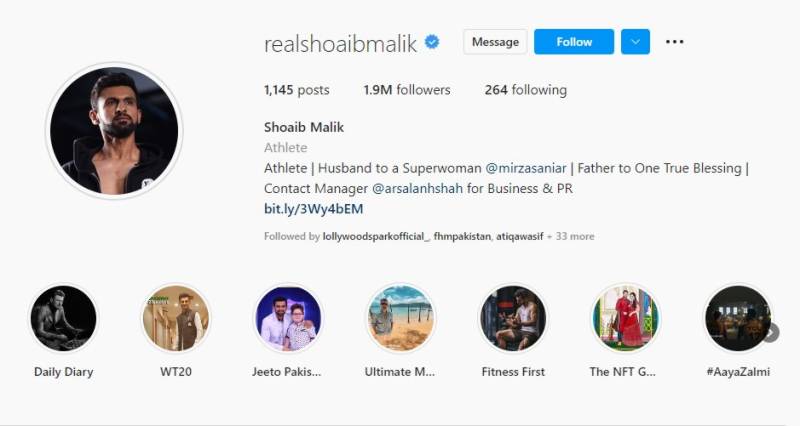 Pertinent to note that there were speculations about the relationship of Shoaib Malik and Sania Mirza for the last couple of months rumoring that the sporting couple is on the "verge" of getting divorced but nothing like that is happening. Once Shoaib Malik called the divorce rumors merely rubbish and urged people to ignore such rumors. 
Similarly, he refused to comment on his divorce rumors stating that people should stop asking him and his wife the same question again and again and asked fans to leave them alone. However, Malik's recent Instagram bio grabbed the eyeballs of people. 
On the other hand, fans think all was well between Shoaib and Sania since the inception of the divorce rumors. Others believe they created all the fuss deliberately just to make their show a hit and to gain views.
Some opined said that it is written in Malik's bio long ago, Malik often used to refer to his wife as a 'superwoman' and he hasn't updated his bio since then. Hence it does not imply that they are still together. 
We invite you to subscribe to our Google News feed for showbiz updates and stories about actors. Furthermore, you can read the latest showbiz news and stories on our website or follow us on Facebook.