The scandalous Pakistani celebrity couple Shahroz Sabzwari and Sadaf Kanwal have tied the knot months after their relationship came to light when his ex-wife Syra Yousuf exposed her husband's affair.
Pakistani actress and model Syra Yousuf exposed her ex-husband Shahroz Sabzwari of having an affair with Sadaf Kanwal and not long after, the actress filed for divorce.
This left their fans enraged by the news and most of them sided with Syra and criticized the relationship between Shahroz and Sadaf Kanwal.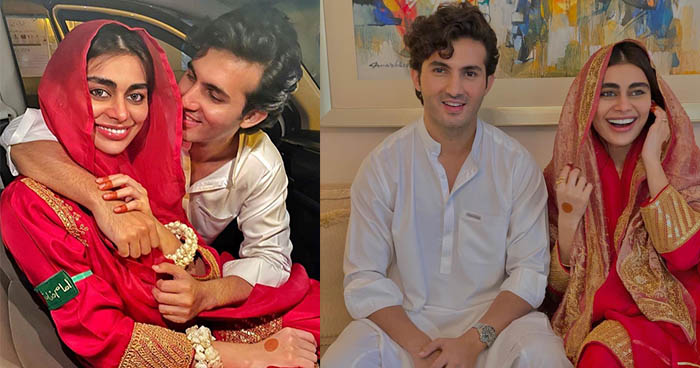 Now the couple has posted photos from their Nikkah ceremony on Instagram confirming the news with the model changing her name to Sadaf Sabzwari on her Instagram account.
Shahroz Sabswari also posted a picture from the Nikkah ceremony captioning it saying "ALHAMDULILLAH".
 

View this post on Instagram

 
However, there are many people who still don't support the two being together as there are many tweets criticizing the couple and their relationship and support Syra Yousuf through all of this. The two are trending with hashtag #SadafKanwal and #ShehrozSabzwari.
So Sadaf Kanwal and Shehroz Sabzwari are reportedly having their Nikkah today. A cheater and a home wrecker make a beautiful couple. Freaking a******* deserve each other! Good riddance, Syra!

— Ifrah Maskan (@ifrahmaskan) May 31, 2020
Lets spare a minute to appreciate #Syra for showinh extreme grace and leavinh with dignity,she just announced and parted ways from this "DO TAKY KA MARD" in respected manner#SadafKanwal pic.twitter.com/sG2OSpreNd

— wastingmytime (@Arslan62572201) May 31, 2020
Meanwhile she is the winner who got rid of that douchebag!#SadafKanwal pic.twitter.com/9jf1eDZuoo

— Kumail. (@Comellee) May 31, 2020
Meanwhile she is the winner who got rid of that douchebag!#SadafKanwal pic.twitter.com/9jf1eDZuoo

— Kumail. (@Comellee) May 31, 2020
If dignity and grace had a face. ? Kudos to you lady ❤️ #SadafKanwal pic.twitter.com/szFyA1G6pr

— ? (@khushnawa_) May 31, 2020