Former supermodel and actress, Natasha Hussain, recently made comments about Shahroz Sabzwari, suggesting that he owes his success to nepotism rather than talent. During an interview with Ayesha Jehanzaib, when asked about actors or actresses benefiting from nepotism, Natasha mentioned Shahroz Sabzwari as an example, citing his father, Behroze Sabzwari's influence as a launching pad for his career.
Natasha's remarks stirred a mixed response online. While some agreed with her perspective, others accused her of hypocrisy, pointing to her own daughter, Tanya Hussain, as a beneficiary of her mother's success despite a perceived lack of talent. Criticism also arose towards the talk show host for deliberately provoking celebrities into making controversial statements. Many celebrities came forward to defend Shahroz Sabzwari's acting abilities and criticized the host for posing "ridiculous questions."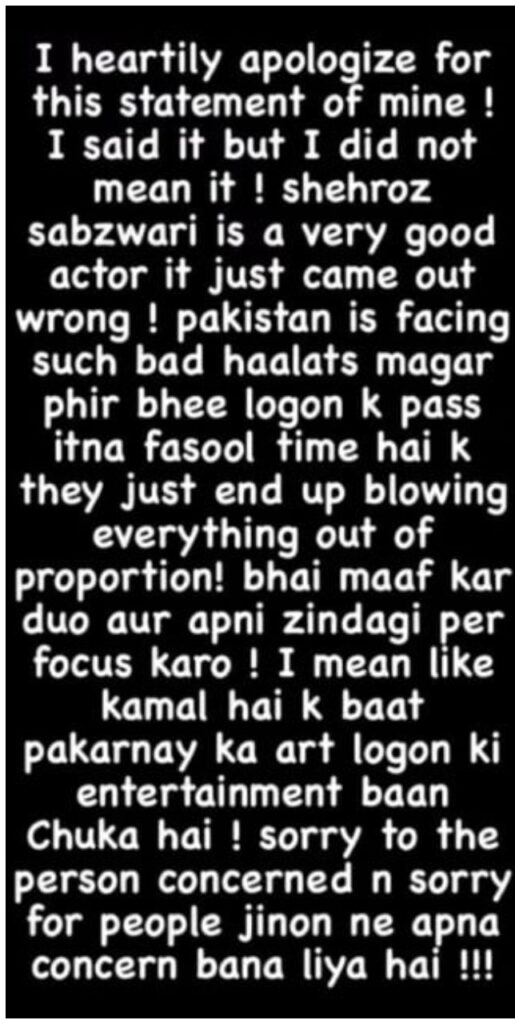 In the face of online backlash, Natasha Hussain retracted her statement and issued an apology. She expressed remorse, clarifying that her comment was not intended to demean Shahroz Sabzwari, acknowledging him as a "very good actor." She also urged people to focus on their own lives, emphasizing that amidst the challenges faced by Pakistan, there are more important issues to address.
Natasha's apology aimed to diffuse tensions and redirect attention away from the controversy, emphasizing the need to prioritize more significant matters.
We invite you to subscribe to our Google News feed for showbiz updates and stories about actors. Furthermore, you can read the latest showbiz news and stories on our website or follow us on Facebook.