Saeeda Imtiaz was a beautiful actress and model who acted in many Pakistani films including  Wajood, Thori Setting Thora Pyar, and Redrum. She also played the role of Jamima Goldsmith in the movie Kaptaan: The Making Of Legend in 2012.
​The official Facebook page of Saeeda posted the news of his passing today and wrote, 'With a very heavy heart we are saddened to inform you that Saida Imtiaz passed away this morning as she was found dead in her room. Rest In Peace. إِنَّا ِلِلَّٰهِ وَإِنَّا إِلَيْهِ رَاجِعُونَ.'
The sad news of her death has made a stir on the internet and everyone is grieving the loss of a gem of the Industry.
May Allah higher her ranks in Jannah and help her family to bear this loss.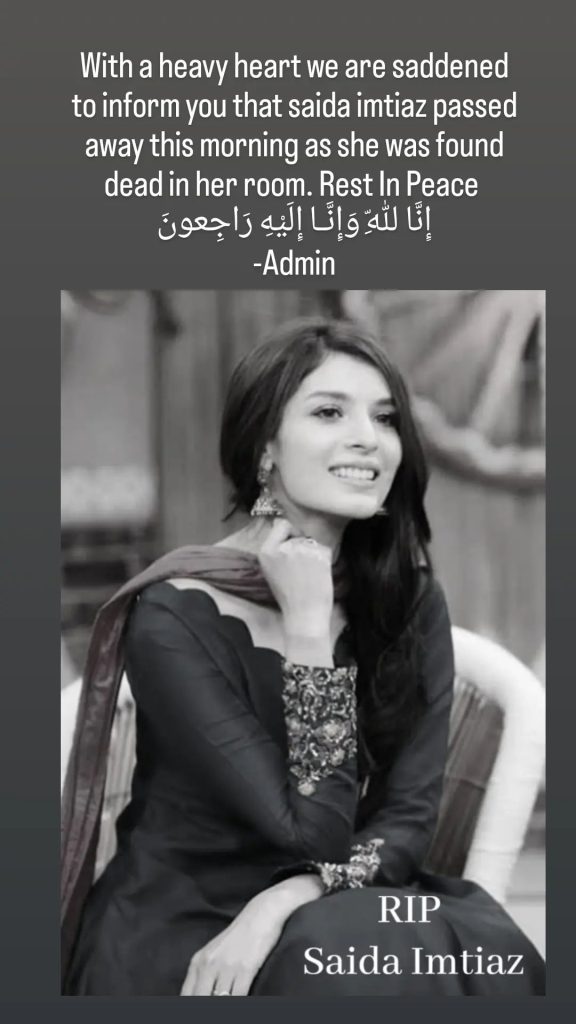 We invite you to subscribe to our Google News feed for showbiz updates and stories about actors. Furthermore, you can read the latest showbiz news and stories on our website or follow us on Facebook.