Reham Khan's allegations against Hamza Ali Abbasi stated that she had received threats from him by e-mails, leading to a more controversial and heated debate between the two.
Hamza Ali Abbasi claimed through Twitter that Reham Khan uploaded false or fake evidence and stated that the email id iamhamzabbasi@gmail.com does not belong to him.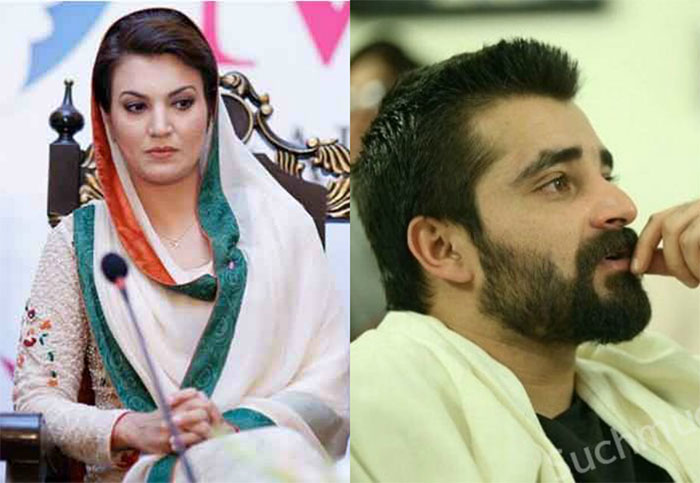 Hamza Ali Abbas rejected Raham's evidence and uploaded some of his evidence; his conversation with Reham Khan, including her e-mail printouts with PML-N leader Ahsan Iqbal - was later removed for a re-share. It is mentioned that Reham Khan has filed a lawsuit against him.
#RehamOnPMLNAgenda Uploading fake emails now? I have never operated this email iamhamzabbasi@gmail.com.... I guess it takes some intellect to lie properly. Reham bibi, dont go down this dirty road, you know what your actual emails to me are and ur emails to Ahsan Iqbal & others. pic.twitter.com/aOVwuCDhLZ

— Hamza Ali Abbasi (@iamhamzaabbasi) June 2, 2018
#RehamOnPMLNAgenda Oh look what i found 🙂 But offcourse, aap ki di howee emails sahi aur meri fake haina? Wish it didnt have to be this dirty but there has to be a public reaction to it since Reham is publishing a book based on lies to manipulate public opinion for N League. pic.twitter.com/zIs11u9SFP

— Hamza Ali Abbasi (@iamhamzaabbasi) June 2, 2018
If you have anything...

1) Yes 2) Yes 3) Prepare for legal action Oh and I'm sorry I did not cast you as the hero in Janaan. You're not NA49 material either. https://t.co/CheqhdFbES — Reham Khan (@RehamKhan1) June 2, 2018
Perhaps @betterpakistan can confirm that this is not his email address https://t.co/iIroiQ9zol

— Reham Khan (@RehamKhan1) June 2, 2018
Apparently some people are now deleting tweets. Next time, think carefully before you pick a fight with me. pic.twitter.com/LSiJfPCMVs

— Reham Khan (@RehamKhan1) June 2, 2018
If he has evidence, he can bring it forward. He obviously doesn't. But I'll definitely take him to court over the baseless allegation https://t.co/MZSq0E8hUh

— Reham Khan (@RehamKhan1) June 2, 2018
Example of some independently hacked stuff that IK never used against RK. Deleted the previous one to upload a clearer version. Before U point out that its fake bcz it says "wro=te" not "wrote" thats code lingo. Shame how RK sold her soul to N League for a few bucks & cheap fame. pic.twitter.com/dRSSZi50gS

— Hamza Ali Abbasi (@iamhamzaabbasi) June 2, 2018
#RehamOnPMLNAgenda Some more "latest" truth! pic.twitter.com/nAxPbMOKso

— Hamza Ali Abbasi (@iamhamzaabbasi) June 2, 2018