Last year on December 7, PIA aircraft ATR-42 turboprop plane, operating flight PK-661, crashed near Havelian with 47 passengers and crew members on-board.
Renowned Naat Khwan and former pop singer Junaid Jamshed  along with his wife were also aboard the plane. The plane took off from Chitral around 3:50PM and PIA said the plane crashed at 1642 local time in the Havelian area of Khyber Pakhtunkhwa, about 125 km north of Islamabad. Eyewitnesses said they had seen the plane crash into a hilly area near Havelian close to the Ordinance factory.  Pictures from the area, which was about an hour away from Havelian, showed the plane's wreckage which had scattered over a large area. Flames and smoke could also be seen rising from the wreckage.
Read Also:
Junaid Jamshed Feared Dead in PIA Plane Crash: Reports
Scroll Down to Watch Video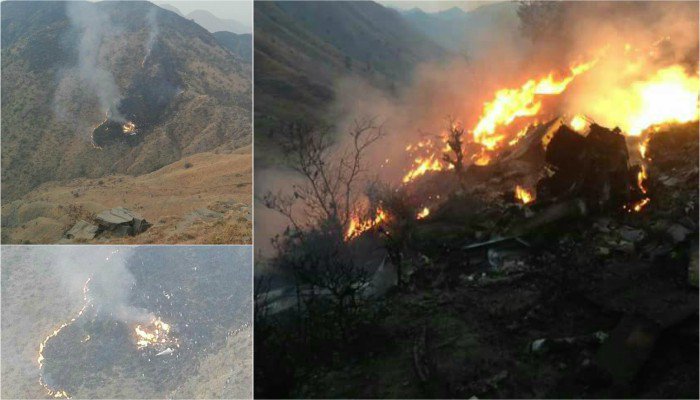 Junaid Jamshed—a name that many from the 90s remember with fondness for heartwarming songs such as 'Dil Dil Pakistan', 'Tum Mil Gaye', 'Sanwali Saloni', and 'Woh Kaun Thee'—rose to fame two decades ago when he joined Vital Signs, a then-underground band that was awarded a record deal when it was noticed during a live concert. The widely-admired singer never actually intended to opt for a career in music, and tried his hand in the Pakistan Air Force as an F-16 fighter pilot. However, his weak eyesight held him back from his dream, and he only served a short stint in PAF as a civilian contractor.
Read Also:
Celebrities React to Junaid Jamshed's Death
Vital Signs, which had already been formed by Nusrat Hussain and Rohail Hyatt, was completed when Jamshed joined. He had met the founding members after a live concert. Subsequently, broadcaster and producer Shoaib Mansoor took lead in helping the band work on their first album. Dil Dil Pakistan, from the album Vital Signs 1, immediately won Pakistanis' patriotic hearts when it was released on Independence Day, 1987. It brought the band country-wide recognition, although it wasn't enough to make Jamshed put his engineering degree on the side burner. Jamshed graduated in 1990.
After having unprecedented success, without any marketing or promotion, Jamshed and Vital Signs went their separate ways in 1998, as the former chose a solo musical career. The band had spearheaded the underappreciated and relatively unknown rock scene to a national level during their peak. His solo road wasn't as smooth as he thought it to be; sometime after 2000, he vanished from the public platform, while rumours arose of him facing financial pitfalls. Finally, mid-last decade, Jamshed declared bankruptcy, abandoned music after learning its position in religion, and announced his decision to become a devout Muslim. Alongside, he launched a clothing line under the name J. in order to maintain an income source.
Read Also:
Jeeto Pakistan Keeps Junaid Jamshed's Promise
Scroll Down to Watch Video
Mansoor, his long-time friend, expressed his disappointment in an interview when he read about Jamshed seeing music in a negative light and consequently confusing his fans. Nonetheless, some close friends remember him not being able to resist his passion for singing in private meet-ups. Jamshed, who had two major sides in his life, was remembered admirably for both. In the latter half of his 52-year-long life, he promoted religion and went to talk on various platforms on how to achieve personal and spiritual growth. The website, the Muslim 500, labeled him as one of the most powerful Muslims around the world.
Jamshed was assaulted at Islamabad airport in 2016 for alleged blasphemy, and had to issue an apology over social media. He was on a visit to Chitral to advance "the Path of Allah," his last tweet before his untimely death revealed.
Read Also:
Film on Junaid Jamshed to Be Released on Dec 1
Heaven on Earth Chitral. With my friends in the Path of Allah . Snowpacked Tirchmir right behind us pic.twitter.com/ZajcWEKlrG

— Junaid Jamshed (@JunaidJamshedPK) December 4, 2016
Five cabin crew members also became unfortunate victims when a Pakistan International Airlines (PIA) plane carrying 42 passengers crashed Wednesday on a domestic flight from Chitral to Islamabad. Captain Saleh Janjua and Co-pilot Ahmed Janjua were operating the ill-fated flight. First Officer Ahmed Janjua hailed from Karachi. According to family sources, Ahmed Janjua's mother and sister reached Islamabad after hearing the sad news. Ahmed Janjua's friend, Shahzaib Junaid talked to Geo News, saying he's deeply in grief over his friend's death and at a loss of words.
The five crew members included First Officer Ali Akram, two air hostesses Sadaf Farooq and Asma Adil as well. The plane also had one ground engineer, the PIA spokesman said. Airhostess Sadaf Farooq belonged to Kallar Syedan in Punjab province. She had joined PIA eight years back as a crew member. Airhostess Asma Adil had two small children, which she left in her in-laws' custody. In her last SMS, she thanked her father-in-law for taking care of her children. Asma Adil left behind a five-year-old son Talha and a one-year-old daughter, Umme Hani. Aircraft Engineer Asim Waqas and two air guards were also a part of the flight. Deputy Commissioner Chitral Osama Ahmad Warraich was also on board the ill-fated PIA flight. Among the passengers were nine women and two infants.