Bollywood actress Janhvi Kapoor revealed that her sister Anshula Kapoor had received rape threats for something silly.
Actor Janhvi Kapoor recently joined superstar Priyanka Chopra's Facebook live-athon to discuss the wonders and perils of social media.
While Priyanka spoke of the hate comments she gets on a daily basis, the Dhadak star shared how her sister Anshula received rape threats online. "My sister recently got trolled on social media. She did something silly on Koffee with Karan and started getting rape threats," shared Janhvi.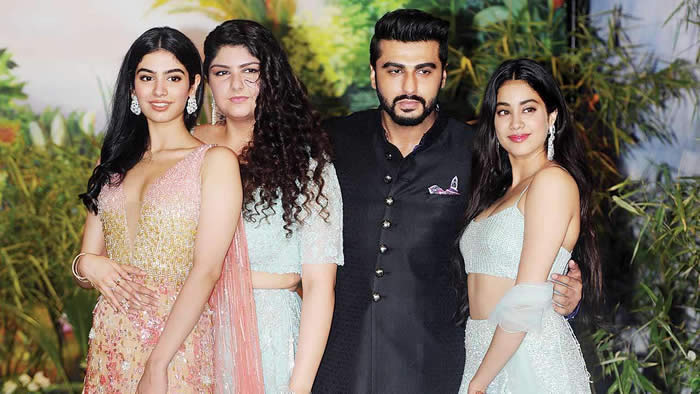 She continued, "It was just weird to me. As people are faceless on social media, they feel they can have opinions that sometimes cross a moral line." The actor went on to state that she naturally feels very protective of her family and tends to be guarded.
The latest episode of Koffee With Karan showed the host, Karan Johar, playing a game with Janhvi and her brother Arjun where they had to call up a relative and have them say, "Hey Karan, what's up." The first one to do so, would win.
Janhvi called Anshula but Arjun told her not to say the words if she wants him "to come back home." Anshula didn't say the words and thus, Arjun ended up winning the game.
Something I assumed was an absolute non issue on Koffee with Karan has escalated into @anshulakapoor being abused & I can't be bothered by protocol anymore. F**k all those trolls who wish harm to my sister. I hope ur mom or sister never have to go thru what u have put us thru...

— Arjun Kapoor (@arjunk26) November 27, 2018
A day after the show aired, Janhvi shared a picture of herself and Anshula, which had comments from many fans asking why Anshula didn't help her. She replied to one stating that her sister could not hear what she was saying over the phone.