I've known Janhvi since she was little, and my relationship with the family goes back decades. Her mother, the iconic Sridevi (who I have long been a fan of), had starred in my father Yash Johar's Gumrah, in the early '90s. And her father, like mine, was a producer.
I distinctly remember waiting with my dad and Janhvi's father, Boney, for a meeting with the star (this was before they were married) so she could give us dates. Cut to many years later, I'm about to launch her daughter's career with Dhadak. It's funny how life turns out.
That memory comes back to me today. I'm sitting across from Janhvi: a poised young woman, her face scrubbed clean (ah, the perks of youth!), dressed in a lemon-yellow Anita Dongre kurta. She's happily polishing off a bowl of "healthy" mango ice cream (her current obsession) as we talk. I'm interviewing her for her first-ever cover for Vogue, but as we chat I realise she's a pro, handling herself with a maturity that belies her age.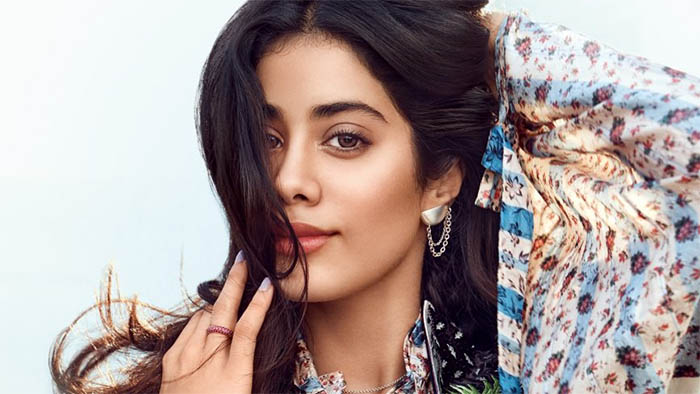 It's both heart-breaking and endearing that she talks about her mother constantly ("She was all excited to attend my Vogue cover shoot; that was one day I really missed her"). We talk for what seems like hours, in a conversation that veers from Charles Bukowski ("I think people would be surprised to hear I write poetry") to her upcoming holiday ("We—all of dad's kids—are going to Cannes and London"). Kapoor's answers are not what you would expect. She is not what you expect. And this is just the beginning of her story. Excerpts from our conversation:
Karan Johar: You grew up in the industry. But, somehow, I felt you were more connected with US Weekly than Filmfare. Was that a conscious effort by your mother?
Janhvi Kapoor: She never wanted me to be an actress.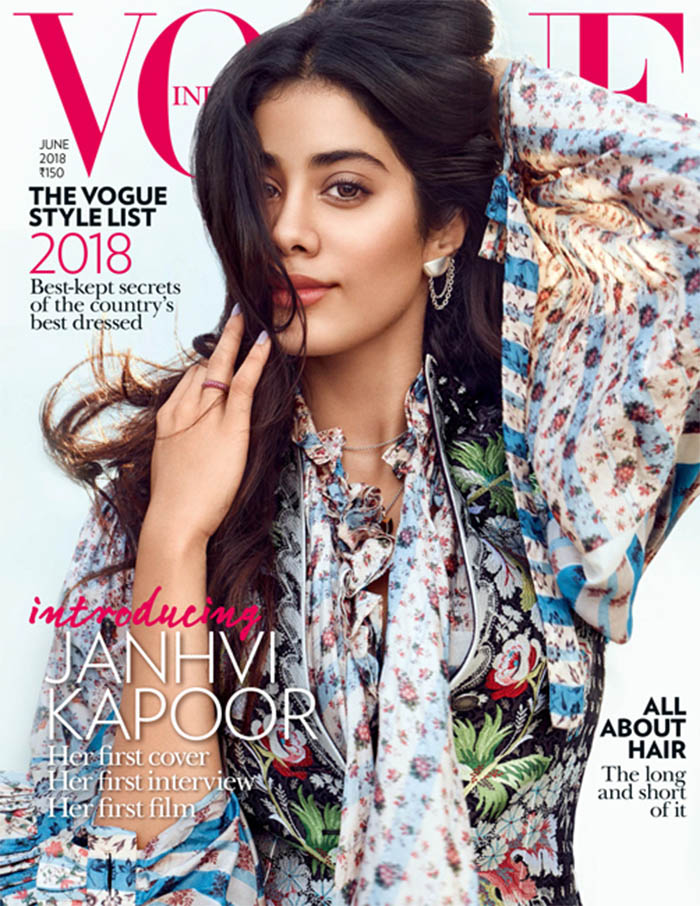 KJ: Why is that? That's unusual.
JK: She was more relaxed about Khushi getting into films. She thought I was naïve, that I wasn't thick-skinned enough. She wanted us to live a more relaxed life. She loved what she did but you know it was intense.
KJ: She was very protective. I remember a funny story about when she left you in LA for an acting course?
JK: (laughs) Oh yeah. She said, "Phool ko kichad mein chhod kar chali ja rahi hu main!" ("I'm leaving my little flower in the muck"). In the wild, wild west. I think it's cool to be naïve. It takes a certain amount of courage to not be pessimistic. I'd like to believe there is good in everyone.
KJ: What was life like for you growing up?
JK: My attendance in school was 30 per cent. I was always travelling with my parents. My education was on the sets. I would do well in history and English but beyond that I just about passed. After I finished school I wanted to do a bunch of courses—art history in Florence, fashion in London and acting in Los Angeles. So I started with acting, and soon I knew this is it, this is what I need to do.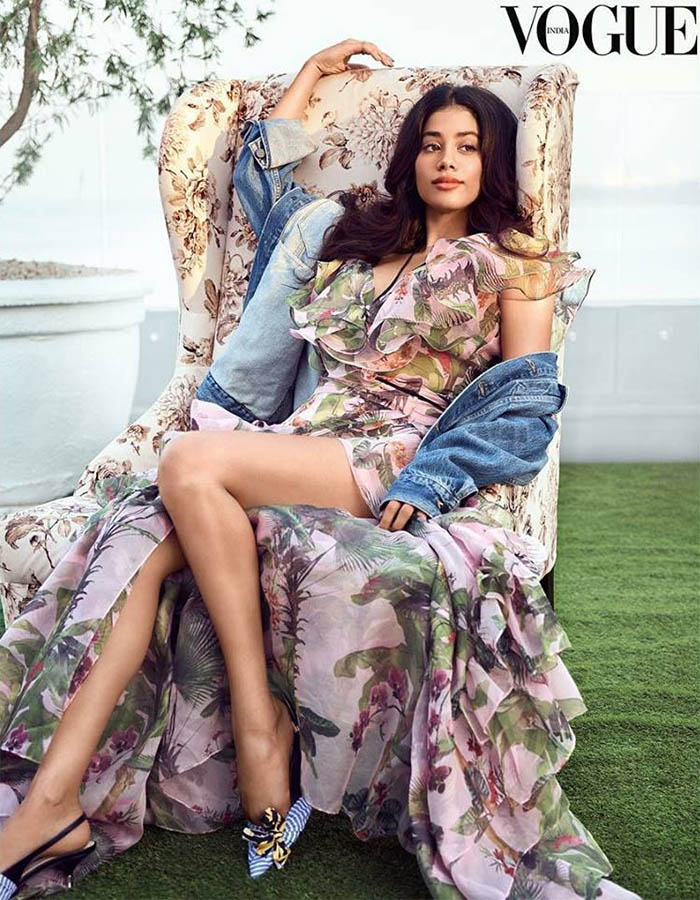 KJ: Your mom started working when she was four years old. Do you know all her stories?
JK: Those were my bedtime stories. Her whacked-out experiences. You know, in the '80s and '90s, when actors would do multiple shifts working simultaneously on different films? So she was doing three movies with the same director, who was also the actor. They were in Ooty and he decided to shoot songs for all three films together. He'd do a scene, then cut and walk to the next location and the entire cast and crew would follow. At one point, he does a shot, starts walking and, suddenly, he's behind a tree taking a piss, and the entire cast and crew is there, watching. He was just walking, and everyone assumed they were going to the next location! Mum was in all the films, and she'd figure out which film they were shooting for by his wigs, which would change for each role.
KJ: I get extremely emotional when I see that after her passing the family has actually come together.
JK: It's made us feel safe and secure. I think, even for Papa, it's a source of comfort. It's definitely tied us together. We've lost mom and I don't think that's a loss any of us will ever get over.
KJ: I know that in your deepest, weakest moments you kept saying, "I want to work because I want to want to do this for my mother."
JK: That's always been my motivation. I'm so proud of my parents. I need to make them as proud of me.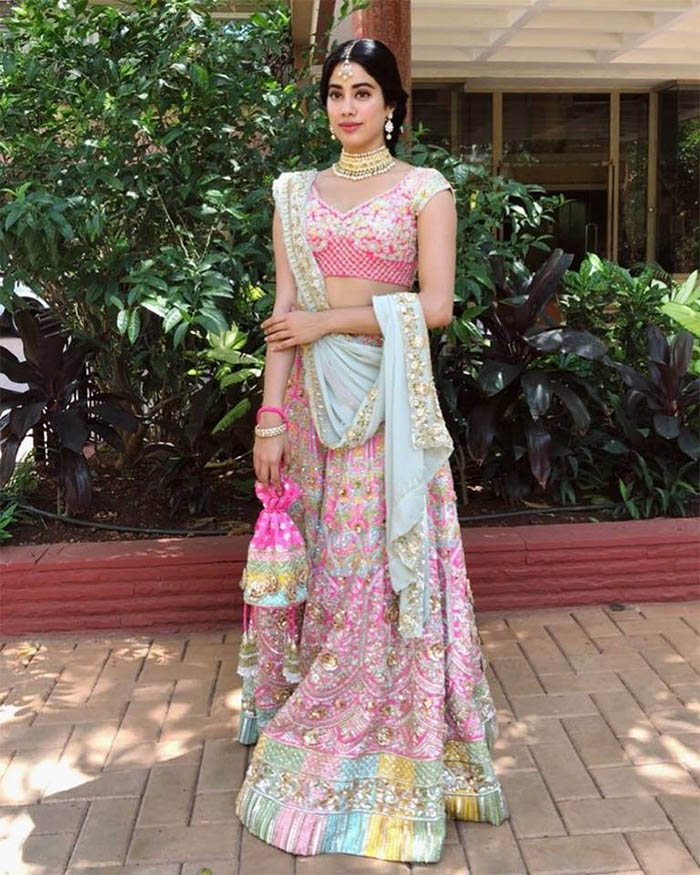 KJ: You're debuting in 2018 but you've been in the limelight for three years. Every time you visit the gym or a restaurant, the paparazzi has it.
JK: It's flattering than anyone would care what I look like after the gym. I feel like I haven't done anything to earn that attention, so I don't know how to react. Should I smile and wave because they've been waiting and it's courteous? Or should I hide because I'm sweaty?
KJ: Your mum always looked perfect. You and Khushi are teen fashionistas and, unknowingly, you're setting trends.
JK: I think other than films this is something that we have bonded over. We love clothes and are roughly the same size. We enjoy dressing up. Papa would call us "three women on a mission" when we shopped. He's always been very into our look—he'd approve them or make us change. And all of those photos of mom and me before events? He clicked them!
KJ: He's a closet fashionista. Do you feel a void, that you can't turn to your mum now?
JK: Of course. I could always be the baby with her. When I'd wake up, the first thing I'd do was ask for her. I'd need her to put me to sleep sometimes and she literally had to feed me. The day before she left for the wedding, I had to shoot, but I couldn't sleep, so I was like, "I need you to come and put me to sleep." But she was packing, so by the time she came to me I was half asleep. But I could feel her patting my head.
KJ: Do you feel more maternal with Khushi now?
JK: I've always been very bad at that. Khushi is very maternal with me. I am a full baby. She takes care of me. Now she comes and puts me to sleep sometimes.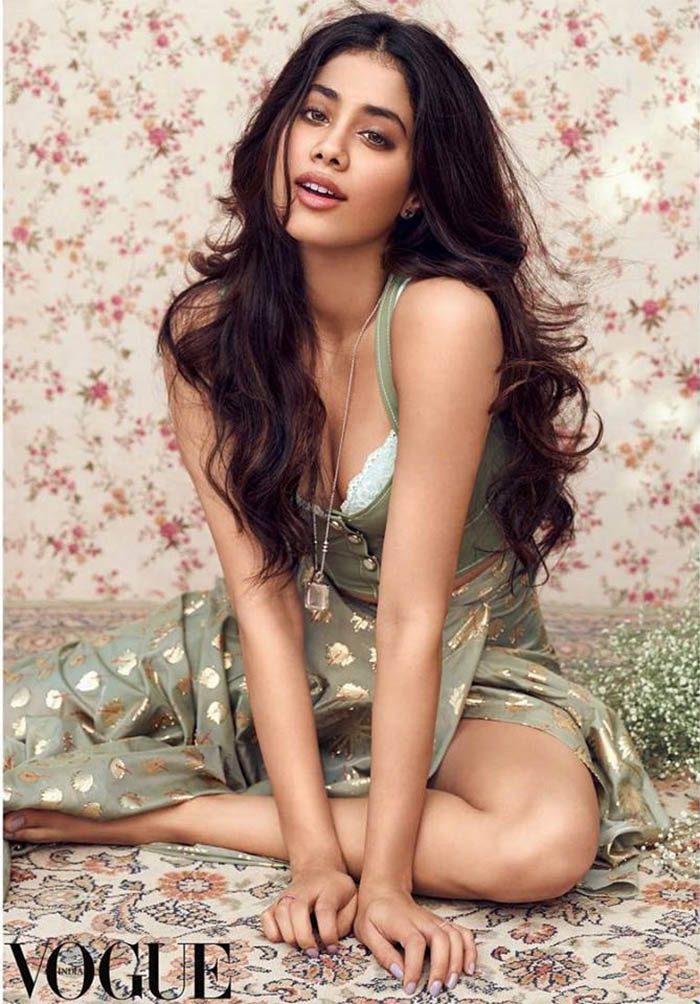 KJ: Your mum saw 25 minutes of the footage from Dhadak before she passed. What did she say to you?
JK: She was very technical about it. The first thing she told me was the things I needed to improve—she felt the mascara was smudged and it really bothered her. The second half has to be different, she told me, "You can't wear anything on your face." That's all she told me but she was happy.