The actor is content with her career thus far. She thanked for the love, saying she welcomes constructive criticism
In a rather small period of time, television star Iqra Aziz has managed to prove her mettle. The star, who rose to fame with famous sitcom Suno Chanda, has done a variety of roles since. One of her most prominent onscreen characters was from social drama, Ranjha Ranjha Kardi. Iqra was lauded for her portrayal as Noor Bano in the show and rightfully so.
While she has worked brilliantly on her television projects, we are yet to see the 23-year-old actor in a film. However, seems like it might be a while until Iqra signs a big-screen venture.
Talking about why she prefers drama serials instead of big-budget films, the star told Urdu News, "I've received so much love from television, that I didn't find it necessary to star in films. I think TV is a great medium. In remote areas where there is no cable or cinema, there is television. People stay connected with their favorite artists through this TV."
She went on to add that actors are very sensitive and she understands very well that those who like them appreciate their work, but went on to assert that she would always welcome healthy criticism. 'There is nothing wrong with that but there is a way to criticise. I have always appreciated constructive criticism," she added.
Iqra continued that the makers need to take risks when it comes to scripts rather than playing it safe every time. "The world has changed a lot and now people have gone far and beyond," she relayed, adding, "There should be stories that are not connected to our lives but the viewers can learn from it. It's time for us to change our track."
The actor will next be seen in a drama serial, titled Raqeeb Se, which also stars Faryal Mehmood, veteran stars Noman Ijaz, Sania Saeed, Saba Faisal, singer Hadiqa Kiani and Hamza Sohail.
Speaking about why she decided to take up this project, the starlet shared, "I just read one line from the script and agreed to work on this. When I found out about the cast and that it was directed by Kashif Nisar, I didn't even read the script and said yes. If there is a writer like Bee Gul, who can deny?"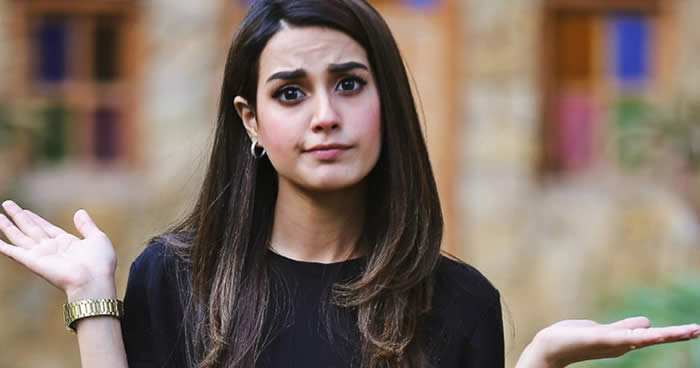 She told that the drama serial Raqeeb Se is also important to her because, after a year, she is seen by her fans on the small screen. The actor was also excited to share the screen with Hadiqa, who is all set for her acting debut with the show. As far as Noman Ijaz is concerned, Iqra touted him as "a great actor." She shared, "Noman Ijaz is like an open book, he helps his juniors a lot. He used to rehearse with me so that I could give a good shot."
Talking further about the play, Iqra said this play is not only grand in terms of its cast but will also bear an important social message. Unlike her role in Jhooti, the actor shared her character this venture isn't of an antagonist, but of someone who considers herself cunning.
Iqra also confessed that working on a project with a star-studded cast could be terrifying but working on Raqeeb Se has been a very humbling experience.