Kiran Ishfaq Hussain Dar, a well-known figure in social media, entrepreneurship, and acting, was previously married to the popular Pakistani actor Imran Ashraf. The couple also shares a delightful son named Roham. However, they decided to part ways last year.
Kiran Ishfaq is now enjoying her single life and finding happiness on her own terms. She frequently shares insightful posts reflecting on her past relationship with Imran Ashraf. Throughout their separation, Kiran dropped numerous hints through her stories.
Today, the stunning actress once again alluded to her dissatisfying relationship. She shared some beautiful pictures accompanied by a powerful statement. Kiran emphasized that she no longer lives her life for any man and will never do so in the future.
She expressed regret for altering her lifestyle to please her ex-husband, Imran Ashraf. Her recent post featured a poignant caption: "I swear, by my life and my love of it, that I will never live for the sake of another man, nor ask another man to live for mine. Do not change your personality or anything for anyone. I did it, and I regret it."
Take a look at her thought-provoking post below.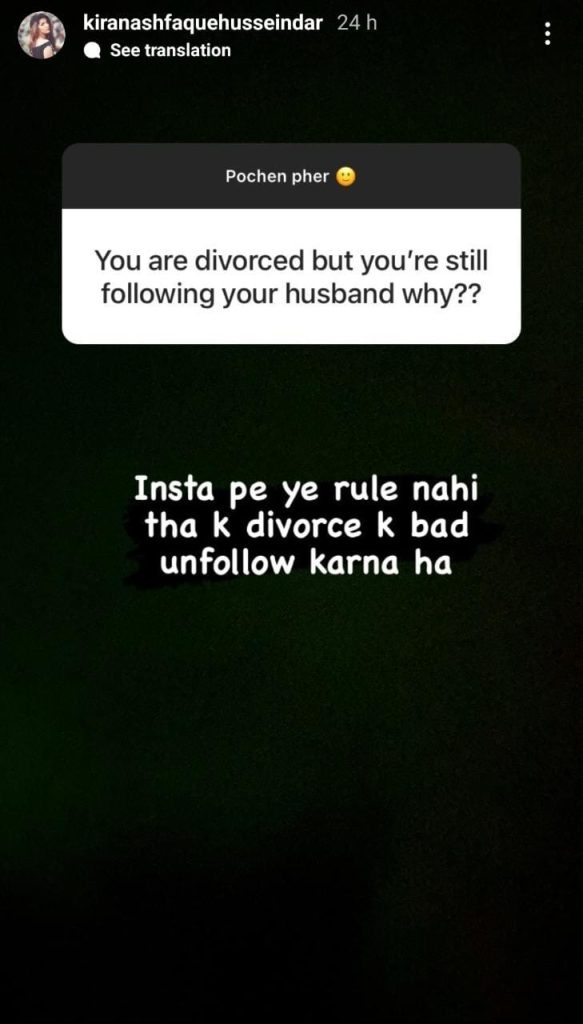 We invite you to subscribe to our Google News feed for showbiz updates and stories about actors. Furthermore, you can read the latest showbiz news and stories on our website or follow us on Facebook.