Imran Ashraf Awan is a Pakistani actor and writer. Ashraf appeared in Dil Lagi, Alif Allah Aur Insaan, and Raqs-e-Bismil. He is best known for portraying the mentally challenged Bhola in Ranjha Ranjha Kardi for which he won Best TV Actor at the Lux Style Awards. Pakistani heartthrob Imran Ashraf is a man of many talents and he has proven that time and time again, from his selective acting gigs to his capabilities as an entertainer, he is always at the top of his game.
Recently, the Ranjha Ranjha Kardi actor appeared on The Talk Talk Show in which he clarified the video he made for Shaniera Akram after Feroze Khan's online spat. The host questioned him, 'Your post with Roham in the car was shared by Shaniera, in which she was saying that Feroze probably influenced you, you made a video on that, how would you clarify the video?'
The Chaudhary and Sons actor replied, "Didn't you all see me making daily videos with my son? I have a certain fixed time which I love to spend with my kid, am I mad? who would urge people to breach the safety laws." "It was just a mandatory video with my son which I shared with fans, I post videos for my fans because they ask about Roham, after that particular post, I saw Shaniera's story in which she wrote that l was copying Feroze."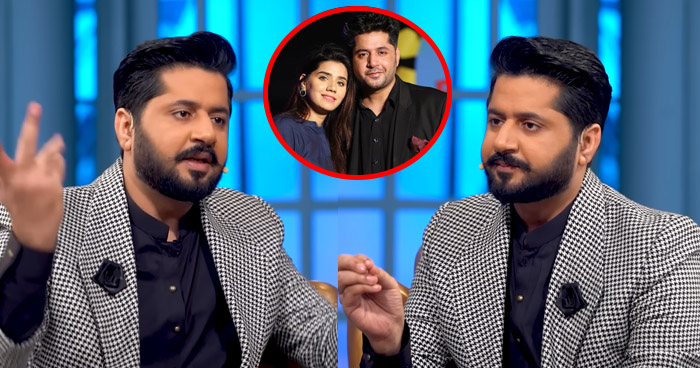 "if she would have asked me, 'Imran, where are the seat belts, I would have been embarrassed and would have deleted the post immediately and would have apologized. Also, I would never preach such things which will hurt my son and he will think bad about his father, yes, it was my mistake, I apologize for not wearing a seat belt," he concluded.
Earlier, the hot topic of seat belts and the dangers of driving with your child on your lap was triggered when Shaniera Akram called out Feroze Khan for driving with his daughter in his lap. While most people openly sided with the activist, Ashraf shared a video with his son on his lap in his car.
We invite you to subscribe to our Google News feed for showbiz updates and stories about actors. Furthermore, you can read the latest showbiz news and stories on our website or follow us on Facebook.