This week Tonite With HSY brought Pakistani entertainment's most infamous names together on the couch; Meera and Veena Malik.
HSY, lovingly known as Sheru by those in showbiz, has made a name for himself in fashion design, but this venture as a talk show host has paid off as well.
Now in its 5th season, 'Tonite With HSY' is back and it is already delivering some serious punches. This week's episode brought Pakistani entertainment's most infamous names together on the couch; Meera and Veena Malik.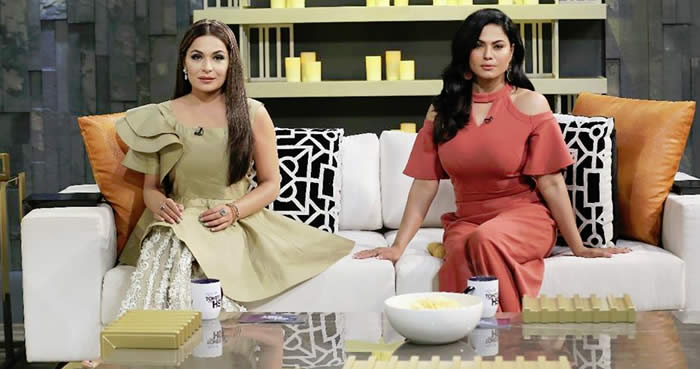 The episode was definitely not what I expected. Meera and Veena were both extremely open about talking about their lives and were successful in portraying themselves as strong and powerful women in Pakistan and the Pakistani entertainment industry.
The interview started on a rather 'innocent' note.
When asked who Meera would be if she weren't The Meera Jee, the actor responded that she would be a teacher either in Sheikhupura or Lahore. Meera, growing up, saw her mother as a teacher and always aimed for that lifestyle.
HSY asked Meera about her early days in the industry and as an actor.
The response she gave just goes to show how Meera was brought up; her response exudes simplicity as well as innocence. According to her, before she became a part of the industry, she didn't understand the how films were made. She laughingly admits that she used to think that when she'd see a movie in the cinema, she'd think the artists were performing behind the curtain.
She says that only after being a part of the set did she learn how movies are made, and how many people get involved in the whole process.
Then came on Veena Malik! Her interview began with an interesting fact.
Veena and HSY had worked in a movie together. The film was called 'Tere Pyaar Mein', and HSY was called in to choreograph a dance video.
We all would learn a lot about Veena from this interview. She comes from a military family and has 5 sisters and one brother.
She laughingly says that when she's among her siblings she feels a severe inferiority complex since each and every one of them is as accomplished as the next one. It also turns out that Veena herself has studied sociology and psychology.
Obviously, the next question was if this education helped her in any way. She jokingly said that it helped her characterization but definitely did not help her when she was trying to read people.
The interview got pretty real when Meera and Veena were asked about how they feel about haters and how people talk about them behind their backs.
Veena was pretty bold with her answer. According to her, she had been through a lot in her life and learned early on that she needed to have a thick skin. On the other hand was Meera who said that she is overly sensitive.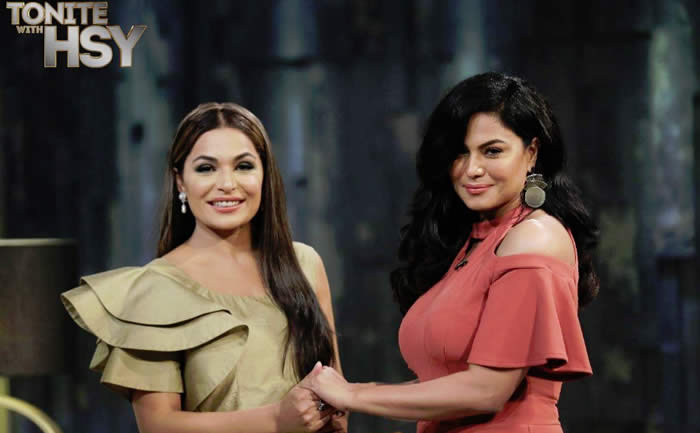 She also admitted to knowing everything that is said about her, both on TV and online. At one point in the interview, she says, 'Mein mehsoos karti hoon lekin khamosh rehti hoon'.
Meera even admitted that she takes a lot of inspiration from Veena Malik and her attitude.
She says that Veena motivates her to push through and be a stronger person. Towards the end of the interview, both actors say they believe the rhetoric that women need to support each other and build each other up.
This interview was refreshing to see. It was nice to see some of Pakistan's most famous actors talk to candidly and openly, and it was also refreshing to see that they don't hold on to old-school beliefs of every woman for herself. Meera and Veena may be marred by their pasts and their mistakes but clearly, they are more than that.