Pakistani acclaimed singer cum artist, Hadiqa Kiani, who adopted a child as her son in 2005 from the Edhi Foundation, has recently shared her feelings of being a proud single mother.
The 'Kamli' singer has recently called out those who suggest her to get married for the sake of her own child. Taking to Instagram, Hadiqa shared a thread of stories in which she asked her followers to respect single parents and their parenting capabilities and not force them into relationships they were not interested in. "Something I see in my inbox a lot that I'm sure many women experience in our society as well," Hadiqa began, before proceeding to share the screenshot of a message sent to her.
"Hello, Hadiqa. I want to marry you, I know you have a child," wrote the user in a message.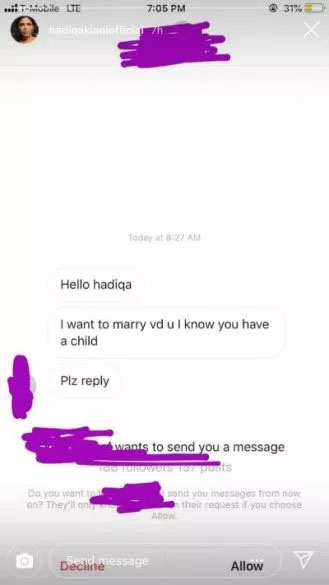 Talking about such bugging and interference by others in a woman life, the singer shared her thoughts in a series of InstaStories saying, "The notion that the single mother is a victim needing your pity or love is beyond me. The fact that men like this think that I, or any woman, is desperate for marriage because she has a child is disgusting."
Telling the followers about her own personal experience, Hadiqa shared, "When I chose to adopt, I was told by many that it would ruin my chances of remarrying. I know other women who have been harassed by family members and people in our society. Being told that they must find a father for their kids."
Many women and men replied to the star and lauded the singer on the valiant stance on the issue to which Kiani responded, "I love all of you who are responding right now." However, Kiani said that such messages do not bother her much because she has a career and a family which has allowed her to stay away from such people. However, her purpose for writing this was to help those who do not have a support system.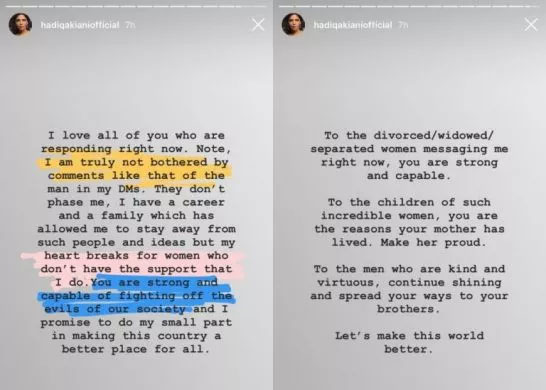 She also addressed all the single moms, divorcees and expressed, "You are Strong and Capable".