Actress Bushra Ansari is going viral on social media these days as she had recently danced with singer Azan Sami at her wedding, which was strongly objected to by the fans and said that she is too old. 
Let this old woman take care of her age, etc. But since Bushra Ansari responds to all kinds of criticism of herself in a very reasonable way, her answers are enough to silence the critics immediately.
Read Also:
Here's why Bushra Ansari is Not Returning to Pakistan
The actress shared a story on her Instagram in which she clearly wrote: "I have been in great pain for the last 3 months because it is not easy to forget my sister's trauma, If you dance on a mystery, people have no right to express their opinion. ''
View this post on Instagram
Director Sultana Siddiqui's first grandson had a henna ceremony and for me, he is like my son, and if I danced to her joy then what is wrong with it. I know I am 60 years old and everyone my age.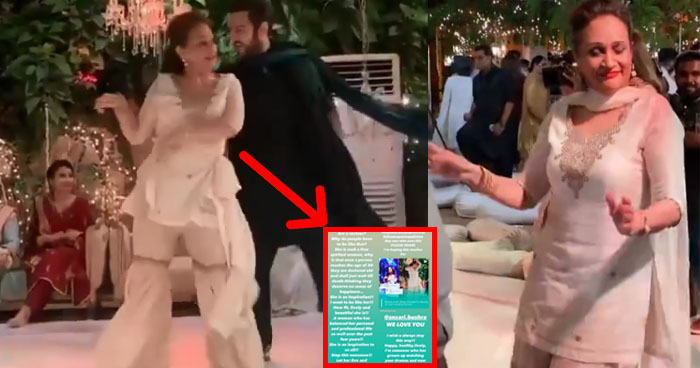 I am telling you that this is the best age to enjoy life when I have fulfilled all my responsibilities, Alhamdulillah. I have no regrets about it so telling the elders that they are old and have no right to be happy, is a very useless way.
Read Also:
Bushra Ansari's Sister's Death, Everyone Is Crying Watching This Video
Why do children feel insecure with their adults, if aging is the only problem, then either change your thinking or treat your parents the way we treat people. I don't think it is necessary to answer an unknown troll because they don't forgive anyone even after wearing a hijab so stop hurting people it is not allowed in Islam. I was only criticized for trying to explain what the sign of the cross is for Muslims and what it is for a non-Muslim.
Read Also:
Bushra Ansari's Daughter Meera Ansari Got 2nd Marriage in New York
Bushra added: "We are famous, we are older, people like us more than others, that's why they don't want to see us happy and criticize us in some way. ''
Please 'SHARE' to pass on this story to a friend or family member