So Mawra Hocane wasn't the only one who showered praise on Sajal Aly and Adnan Siddiqui after watching the Pakistani duo's performance in Bollywood movie 'Mom'
Ayesha Omar, the gorgeous TV actress, also wrote a long Instagram post praising the duo over their performance in the movie and Sajal Ali replied.
Here is their beautiful conversation.
In the Instagram post, Ayesha Omar tagged both Adnan Siddiqui and Sajal Aly and said that she "couldn't hold tears throughout" the whole duration of the film.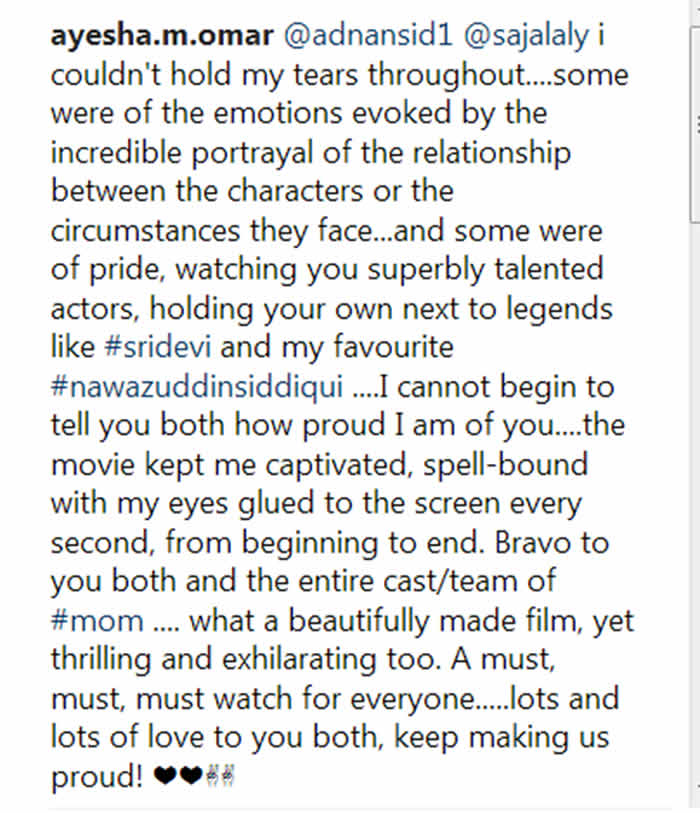 "Some were the emotions evoked by the incredible portrayal of the relationship between the characters or the circumstances they face…and some were of pride, watching you superbly talented actors, holding your own next to legends like Sridevi and my favourite Nawazuddin Siddiqui….I cannot begin to tell you both how proud I am of you," reads Ayesha's post She added that the movie kept her captivated, spell-bound with her eyes glued to the screen every second, from beginning to end. "Bravo to you both and the entire cast/team of #mom …. what a beautifully made film, yet thrilling and exhilarating too. A must, must, must watch for everyone…..lots and lots of love to you both, keep making us proud," said Ayesha Omar.
Here is how Sajal Aly replied in the comment

"Ayesha.. this means so much. I am so thankful to you for being there and supporting me and Adnan bhai. Getting all this love from you means so much. Lots and lots of love to you," wrote Sajal.
Bollywood's 'MOM' has Sri Devi playing the lead role who seeks revenge for injustice done to her daughter. The film also features Nawazuddin Siddiqui, Sajal Aly, Akshaye Khanna, Abhimanyu Singh, Sajal Ali and Adnan Siddiqui in pivotal roles.
Here are the two trailers of the movie
We'd love to hear what you think of this. Let us know at info@fashioncentral.pk
Stay tuned to Fashion Central for latest news and updates.