Sana Fakhar, often credited on the film screen as Sana, is a Pakistani film actress and model. Sana was introduced to the Lollywood film industry by director Syed Noor in his film Sangam in 1997. Sana won the 'Best Actress award at Nigar Awards in 2002 for her role Sitara in Yeh Dil Aap Ka Huwa.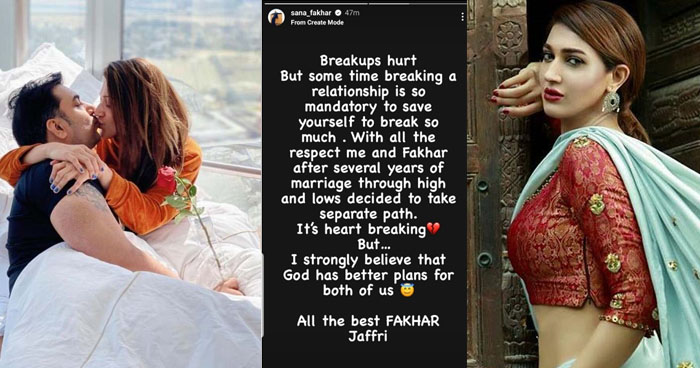 In an Instagram post, the 43-year-old said: "It's heartbreaking but I strongly believe that God has better plans for both of us."
"Breakups hurt but sometimes breaking a relationship is so much mandatory to save yourself to break so much," she wrote.
"With all the respect me and Fakhar after several years of marriage through highs and lows decided to take a separate path.
Fakhar Jaffri and Sana Fakhar got married in 2008. They have two kids together.
Sana appeared in Bay Dardi, Babban Khala Ki Betiyan, and Teri Rah Main.
We invite you to subscribe to our Google News feed for showbiz updates and stories about actors. Furthermore, you can read the latest showbiz news and stories on our website or follow us on Facebook.