News reports of the actors tying the knot have been circulating since a week
Popular actor Amna Ilyas recently uploaded a video to address the rumours of her and actor Dawar Mehmood's alleged wedding that apparently took place on September 5, Saturday, according to a few news reports.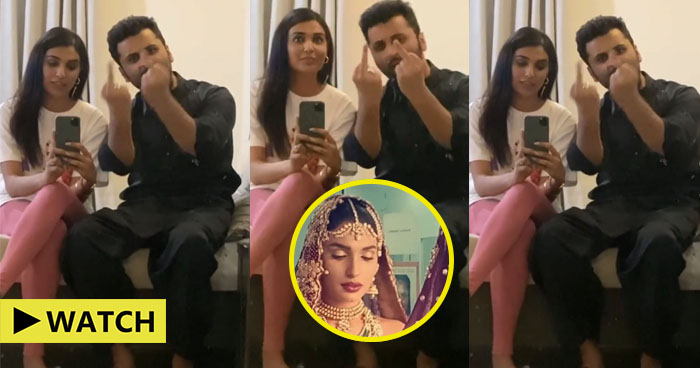 Ilyas shared the video on her Instagram with a caption saying, "Excuse this brute - listen to me," as the video started off with Mehmood saying, "To all the people spreading rumours, take this from me!" He said, raising a foul gesture.
Stopping Mehmood from reacting, Ilyas then addressed her followers saying, "Dekhen baat simple si hai, mera koi boyfriend nae hai, lekin inki bohat sari girlfriends hain.(The thing is very simple, I don't have any boyfriend but he has a lot of girlfriends)."
"Becharay ko puray Pakistan se death threats arae hain. (The poor man is receiving death threats from all over Pakistan.) Tou please rumours phelana band karen. (So kindly stop spreading rumours)," she urged.
Let alone having an affair, a few publications had recently reported that Ilyas and Mehmood had in fact, tied the knot. "Model, actor Amna Ilyas and director Dawar Mehmood of Kopykats Production have reportedly tied the knot in a simple ceremony on Saturday," read one of the most circulated news reports.
The report had further alluded to their reported marriage as being something Ilyas had been hinting at since May.