Like the rest of us, the news came as a surprise to his wife and mother of his daughter as the pair engaged in a heated debate on social media.
British-Pakistani boxer Amir Khan and wife Faryal Makhdoom shocked the world when the sportsman announced that he has decided to leave his wife of four years, in an ugly Twitter row, after discovering what he believed to be a Snapchat conversation between her and fellow boxer Anthony Joshua. 
Now though, Faryal has spoken out to put rumours of a fling with AJ to rest, and much to our surprise, Amir concurs! "I've been quiet for some time because I myself don't know what's going on," Faryal wrote. "Everything that's going on is just not right and a complete misunderstanding. The screenshots sent to Amir were fake and Amir thought Joshua and I were speaking, when we've never even met. Anger took the better of him and he tweeted away without thinking. There was absolutely no truth to it," she added in her post.
Read Also: Faryal Makhdoom Replies After Amir's Video!
After days of more drama between the pair and also Anthony Joshua wading in himself to deny the accusations, Faryal and Amir appear to have finally buried the hatchet and apologised for their very public spat. Faryal told her followers that the furious fall out was all a huge misunderstanding. "It's all cleared up with both teams now," she added. "Apologies for all this nonsense. Let's get on with life now."
— Faryal Makhdoom Khan (@FaryalxMakhdoom) August 11, 2017
Shortly afterwards, Amir posted an apology on his own Twitter. "I partied in Dubai with friends to get my wife angry. Shouldn't have. That's not like me and I'll prove that," he said.
I partied in Dubai with friends to get my wife angry. Shouldn't have. That's not like me and I'll prove that

— Amir Khan (@amirkingkhan) August 11, 2017
"@anthonyfjoshua glad all is cleared up and all lies. I got angry like any man would. No truth to it. Good to know. All the best." "I still have made my decision to leave Faryal. It happens in life. The relationship was getting unhealthy. I wish her nothing but the best."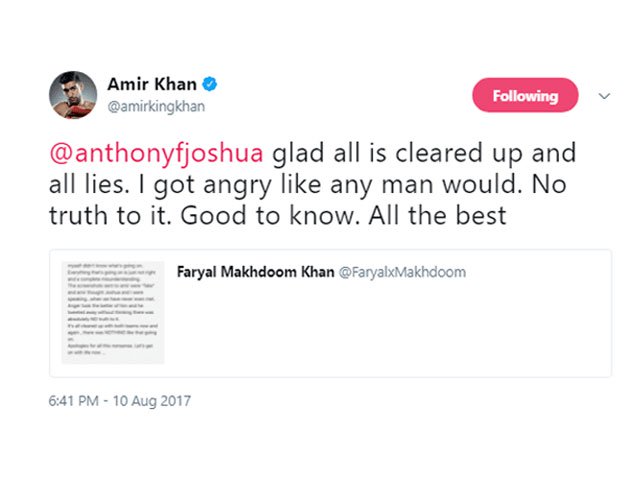 Source: tribune.com.pk
We'd love to hear what you think of this. Let us know at info@fashioncentral.pk
Stay tuned to Fashion Central for latest news and updates.