The entertainment industry is full of breakups and linkups. Every day, couples are getting married and celebrating pregnancies. On the other hand, some are filing divorce and suffering from deep depressions of split-ups.
Recently, a breakup hit the internet when Saboor Ali and Ali Ansari shout out with beautiful captions pictures with the caption of "Baat Pakki" on their Instagram profiles. The ceremony looked private and beautiful, attended by close family members.
Fans got excited and a little sad after hearing this news. They wished the couple but one thing that hit in the mind was 'what happened to Mashal Khan'?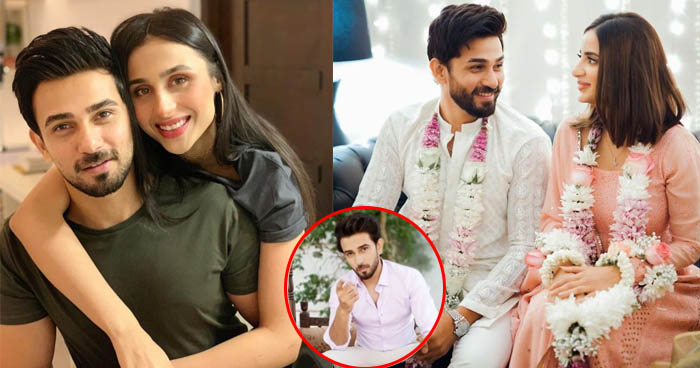 Ali Ansari dated Mashal Khan from 2018 till 2020. They both didn't work together in any drama or movie, but seen in hot and steamy photoshoots. They deliberately made public appearances together and seem so much in love with each other.
Also, they have been observed casting votes together to attend social events hand in hand.
Ansari and Khan, both appeared on Reema Khan's show and revealed their engagement for two and a half years.
Ali sent him a Facebook request after seeing her on a fashion show and their love story began. Ansari said that Mashal is 'precious' to her. Their Instagram interaction also shows that they were new 'lovebirds' in town. No one knows how this fairy tale got ended.
They both unfollowed each other on social media and deleted all pictures. The breakup was confirmed when Mashal Khan made her Instagram live and confess to having thrown out much "trash" from her life recently.
It seems like Saboor Aly divide the couple and she became the cause that Ansari dumped Khan. Later, Khan made a public apology to her fans that she didn't inform them about her breakup with Ansari.
Saboor Aly is in the limelight since she insulted Amir Liaqat Hussain in a live show. Well! Mashal Khan never took such impulsive and overconfident actions against anyone publicly. We wish happiness for the couple and good luck to Ali Ansari for choosing Saboor over Mashal.