Sania Mirza is an Indian professional tennis player. A former doubles world No. 1, she has won six Grand Slam titles in her career. From 2003 until her retirement from singles in 2013, she was ranked by the Women's Tennis Association as India's No. 1 player.
According to reports, during a live conversation with Shoaib Malik, Sania Mirza said she wants to marry Akshay Kumar. Pakistani cricketer Shoaib Malik held a live conversation with his wife via Instagram. During the chat the couple told their fans about their favourite things.
Shoaib informed the fans that every-time Sania eats something she gets drowsy. He said that this morning she ate rice before brushing, and asked how you can eat this morning.
Continuing the playful banter, Sania also reprimanded Shoaib. What happened was that when Sania went to watch a match in which Shoaib was playing, the tennis professional's camera was a bit low, at which Shoaib asked her to fix her camera's angle. When Malik asked a question she joked that when other guests are also present you are not making too many demands.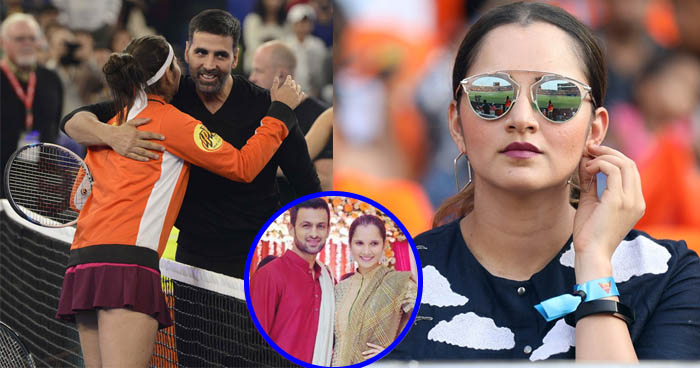 It looks as if you yourself have set out alone. During the live conversation Shoaib also told Sania that you never made tea for me at which Sania responded that you are lying; I made tea for you at Dubai. They pulled each other's legs over making tea.
Angry with her…
During the conversation Shoaib asked Sania if she knows what his favourite place is, and she could not answer the question at which Malik looked upset. He said since you don't know of my favourite place, I will go on outings with my friends in future, and then you will know where I like to go. They enjoyed a lot during the live conversation.
Sania likes Babar Azam…
Sania revealed that amongst Pakistani cricketers she currently likes Babar Azam. The important thing is that a few days ago Babar declared not Sania but Sarfaraz Ahned's wife as his favourite sister-in-law. Apart from this, Sania also said that amongst Pakistani cricketers, her best friend is Imam-ul-Haq.
Marrying Akshay Kumar…
Sania also said that she likes Akshay Kumar and wants to marry him. I love him since the days of his film Mohra, she said. Actually Shoaib had asked Sania whether she would have preferred to marry Tom Cruise or Akshay Kunar and she responded with Akshay's name.
Sania likes Salman Khan…
Sania asked Shoaib about his favourite actor, and said that she loves Salman Khan. Apart from that Malik said that Sania and her sister Anam Malik like Shahrukh Khan. The important thing is that the Pakistani team has gone to England. From next month Pakistan is going to play three Test matches and three T20Is.
Reputed batsman Shoaib Malik is also leaving for Pakistan for the T20Is. Before leaving for Pakistan, he will spend a few days with his wife and son and then will be able to go to England by the end of July.