Summer months call for an extensive wardrobe that has all summer essentials that feel great and are also easy on the eyes. Breezy ready to wear kurtis, printed short shirts, flowy chiffon dupattas, lightweight lawn 3 piece suits, stylishly embroidered party wear made out of festive fabrics are all must-have items for the summer season.
While ready to wear ensembles are convenient and can be easily bought and worn the same day, they may not be everyone's taste. Some Pakistani women like to buy unstitched fabrics, design their clothes themselves and get them tailor-made according to their preferences. When you think of great quality unstitched fabrics, Alkaram is the first name that comes to mind.
Al Karam Studio Unstitched Collection 2020
Al Karam studio started in 1986 and over the years has garnered huge recognition and a big name in the Pakistani fashion industry. Every year Al Karam produces a plethora of designs and ensembles in its seasonal wear collections and several volumes. The unstitched category houses the brand's largest selection of high-quality unstitched fabrics that come in 1 piece, 2 piece and 3 piece suit options.
1. Unstitched Festive Collection 2020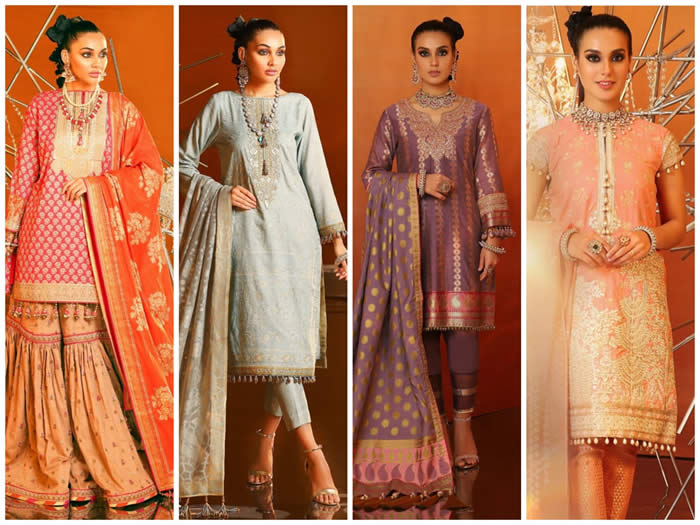 The ensembles in this collection are sure to make fashionistas drool. All fabrics are carefully and intricately designed with the use of traditional hand embroidery, tilla, resham and kora work. These are stylish formal wear that can be worn to summer weddings, Eid, Iftar get-togethers or parties and can be worn by the bride herself for a small and private engagement or nikkah ceremony. Fabrics for the shirts are cambric, cotton net, cotton silk, jacquard and pants are mostly dyed cambric fabrics.
Dupattas are beautifully embroidered or left plain with little embroidery or printed motifs. The designer team has used polyester chiffon, medium silk, jacquard net, jacquard woven and cotton silk fabrics for dupattas.
They have used techniques like Devoré or Burnout for some dupattas where the fabrics are burnout washed to create a prominent and unique print. A typical heavily embellished and embroidered shirt fabric in this collection measures 3 meters while you get separate embroidered patches done on organza fabric for sleeves, neckline and front border.
These patches can be appliquéd to the shirt creating a seamless and fashionable look. It is great to know that the designers have refrained from using heavy and thicker festive fabrics that make the wearer feel extremely uncomfortable during summers. The fabrics used for this collection are breezy and lightweight and wearing them will not cause any sort of discomfort even in the summer heat.
2. Spring Summer Collection 2020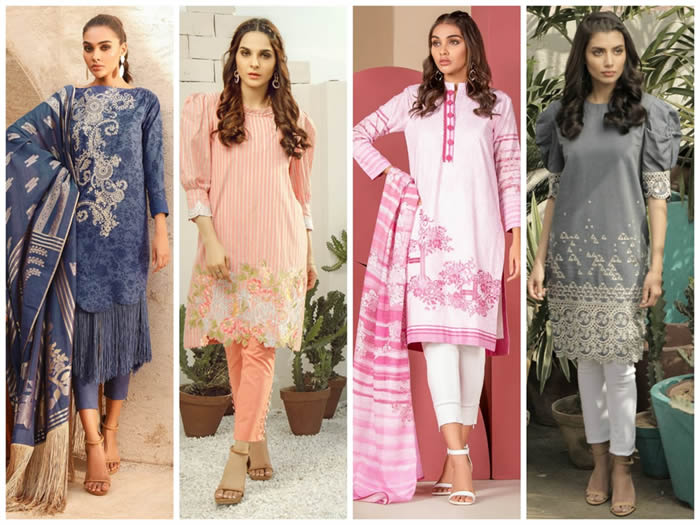 Al Karam's seasonal collection is always anxiously awaited by fashionistas across the country and beyond. They know that the Summer Spring range will have lots of beautifully designed lawn suits that are comfortable to wear and also look stylish and trendy. The designers have used embroidered motifs over plain or self-printed backgrounds that make the embroidered patterns stand out.
There are over 160 designs to choose from that include both printed and embroidered unstitched 1 piece, 2 piece or 3 piece fabrics. The main material used is lawn but other lightweight fabrics such as jacquard, slub cotton, denim etc. have also been used. You will find all summer-friendly cool hues in this collection and the lightweight and airy fabrics keep you feeling fresh and cool throughout the day.
The clothes are designed in a way that leaves little room for extra embellishments. If you are someone who likes opulence and heavy embellishments, you can add tassels, buttons, beads, thread florets, laces, ribbons, sequins etc and make them your own. Remember to achieve the right balance and not to go overboard as that would just look plain out tacky.
3. MAK Spring Summer Collection 2020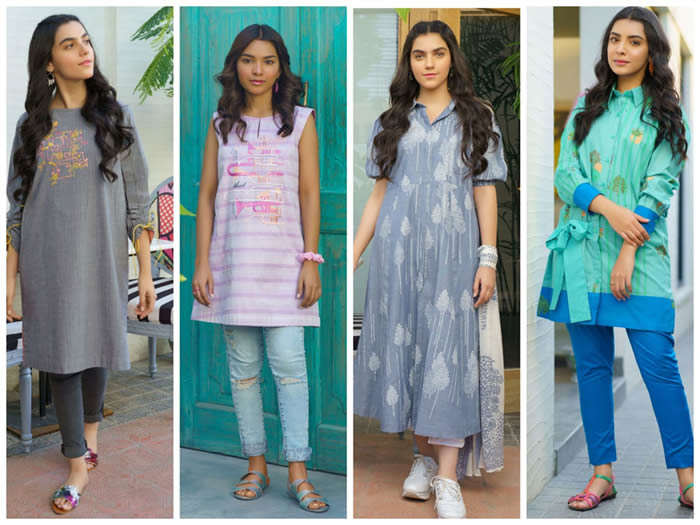 MAK is Al Karam's line of clothing for teenage girls. The Spring-Summer season collection for teenage girls has a tasteful range of 1 piece and 2 piece unstitched fabrics that the girls can pair with trousers, jeggings or capri pants. The price range falls between Rs. 1000 to 2000 and there are above 170 designs to choose from.
Since these are unstitched fabrics, the designing needs to be done thoughtfully, keeping in mind your teenage girl's comfort while also not compromising on style. It is refreshing to see that Al Karam has added both embroidered as well as printed options in this category that would cater to a wider younger audience. Young girls these days like to wear stylishly embellished clothes that make them look their age but also add oomph to their entire look.
The embroideries are done using thread embroidery techniques with designs ranging from geometric repeats, floral, oak leaves, birds and other patterns inspired by nature. Designers at Al Karam have used soothing summery colours for young girls, keeping the designs simple yet chic and trendy.
4. Silver Summer Collection 2020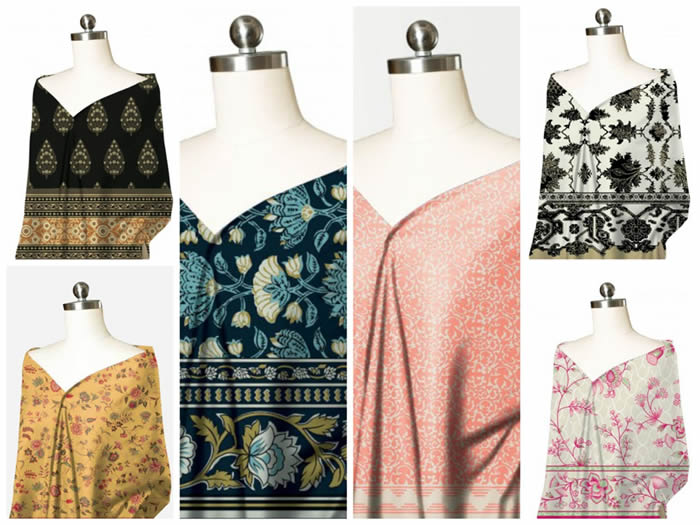 The silver collection houses the most affordable 1 piece unstitched shirt fabrics. There are around 41 designs in this collection and all the printed shirt pieces are priced at Rs 850 each. The measurements for each shirt piece is 2.5 meters that is enough for women who wear up to large size. These make for a great everyday casual wear shirts and you can pair them with jeans, cotton pants or trousers with plain or printed chiffon dupattas.
There are endless options when it comes to an ensemble like this, as you can mix and match and wear whatever pleases you.
The printed designs vary from shirt to shirt and the brand has made use of a wide range of patterns and prints for this collection. The prints use floral, geometric, acanthus, paisley, oak leaves and repeat patterns that please the local aesthetics. Al Karam has used a diverse colour palette for this collection as you find almost all types of shades and hues that look great in the summer season.
From pinks, blues, yellows to whites and blacks, the brand has made sure to offer a wide mix of options to the customers. If you are someone who would like to buy loose fabric rather than 3 piece suits then you can check Al Karam's Catalyst collection that has fabrics that are sold by the meter.