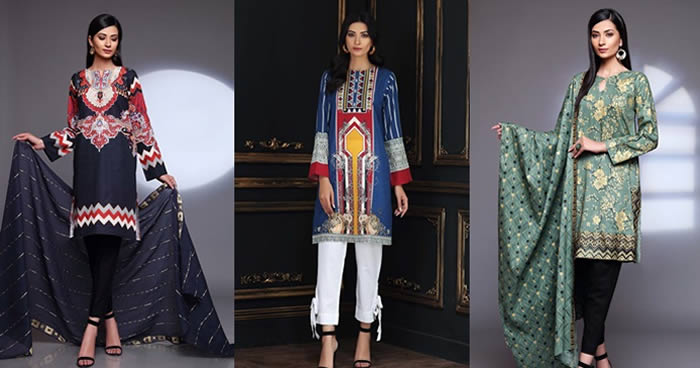 The Pakistani fashion scene is bustling with creative and affordable high street fashion houses like So Kamal. It is a budget-friendly and popular clothing brand in Pakistan that also manufactures home couture items. Launched in 2016, So Kamal is the brainchild of Mrs. Erum Kamal whose vision is to cater to women of all ages and provide them options that reflect style, comfort and individuality.
With the famous designer, Zara Shahjehan as the creative mind behind their lovely designs that come out every season, So Kamal routinely launches in-store as well as online discount sales round the year. Starting from winter, summer, midseason, Independence day, Quaid day, new year etc.
So Kamal has recently launched its Winter design collections for 2019- 2020. If you are looking to stock up on your winter wardrobe, now is the right time as So Kamal's newly launched winter collection is creating a frenzy amongst online shoppers. The Winter collection comes in three different categories that include the affordable Cambric & Satin collection, Linen & Karandi and the premium-priced Premier Fabrics collection.
The lightweight cambric fabric is loved by Pakistani women for its soft and fine weave. It is a type of cotton material that can be worn in summers as well as winters because of its dense quality. So Kamal's winter collection has ethnic-inspired prints based on rich tones and vibrant colour palette that gives a warm sensation to the onlookers. Three-piece cambric or cotton satin digital printed ensembles start at Rs. 4750 and are paired with lightly embellished dyed woven dupattas. Three-piece embroidered apparels combined with digital prints start at Rs. 5750 and are paired with printed chiffon dupattas.
The best selling design in this category is called "MOSAIC" which is a fresh shade in mango yellow. It has navy blue digitally printed vertical lines in the front of the shirt and mustard coloured motifs with a splash of light pink and green to give a floral touch. There's a statement embroidery in white thread work on the bottom corner of the shirt and along the neckline to give the ensemble a subtle yet stylish look. This is paired with yellow pants and a matching gorgeous looking flowy chiffon dupatta with the same digital print as the shirt.
Another hot seller is "JUNIPER BLUE" which is a warm-toned blue digital printed shirt with matching plain trousers and an ethnic-inspired printed chiffon dupatta. The front of the shirt has intricate thread embroidery in a floral pattern starting from the start of the neckline going all the way down to the waist. Colours used for the embroidery are bright orange, red and white that stand out on the muted base colour and instantly catch the eye.
So Kamal's Premier Fabrics collection includes clothes made out of sophisticated and formal materials such as Organza, Jacquard, Velvet, Cotton net and Cotton paper. Starting at Rs. 9250, all dresses in this category are heavily embellished and can be worn to parties or other formal Pakistani occasions. The best-seller in this category is "HANOI", heavily embellished and embroidered paper cotton shirt in a beautiful velvety shade of watermelon pink. The embroidery is motifs made out of pure white thread work scattered all over the shirt that enhance the look of the whole attire. The sleeves have a criss-cross white embroidered design all over that end below the elbow where the heavily embroidered broad cuffs start exhibiting an intricate floral design. The front horizontal panel of the shirt has a dense yet delicate and traditional embroidery. This beautiful shirt is paired with a matching sheer organza dupatta which is embellished along the borders with dull gold patti that gives the hems a scalloped look.
So Kamal apparels can be worn anywhere anytime and are sure to turn heads and earn you compliments for the unique patterns and styles. With the season's hottest designs by So Kamal making rounds on the internet, it is quite likely that these stylish and beautiful winter wear will soon run out of stock because of the huge demand. So go grab your favourite So Kamal winter ensemble and wear it to the next Sunday family brunch, a casual hangout or a cosy bonfire night with close buddies.