You are looking for the evening dress! You hesitate on a short evening dress, a long evening dress, a chic or glamorous dress … you are spoiled for choice.
Before choosing the dress, think about the evening. Is this an evening between friends where we want to dress well? A dress that must be worn for a gala evening or the evening of a wedding? Yes it's not the same thing. And you will not go for the same extravagances.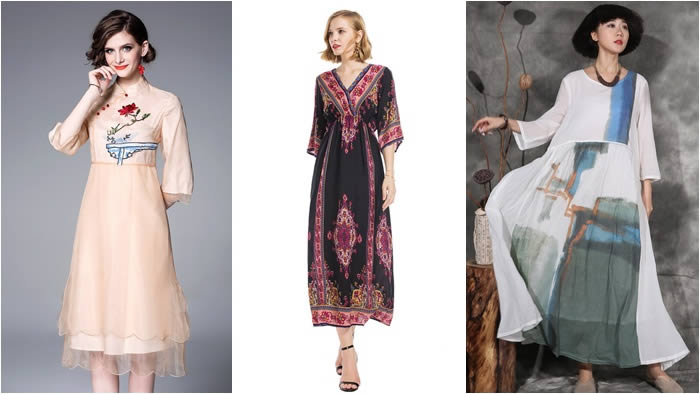 Analyze the evening well and ask yourself if there is a dressing code on the colors, the style. There is no question of arriving with a completely offbeat outfit. Once you have these questions in mind, you can start looking for the evening dress you need. You may have already flashed on the evening dress of your dreams, but is it for you? I will now give some tips that can help you in the choice of a dress.
Choose your dress according to its silhouette and size.
At the moment, it's over to think that because we're not good enough, we cannot wear an evening gown. Feeling too small, too big, too round or not enough …? There is necessarily the evening dress that suits you. Just take the time to study your morphology.
An evening dress for a pyramid morphology:
You have a "pyramid" morphology, a narrow bust and wide hips. Choose a chic evening dress with a fitted and ample top. This will balance your figure. The look will be attracted to the top of your dress, do not hesitate to accessorize your outfit with a necklace, a stole.

An evening dress for a triangle morphology:
Conversely, if you have a bust and shoulders wide, with hips, a waist and thin legs … choose a short evening dress with puff sleeves. Take a closer look at the finer parts of your body and underline your hips with a belt.
An evening dress for a rectangular and petite morphology:
You have a small rectangular silhouette, a small size, a small chest and no hips. Prefer a cocktail dress with volume, folds to create relief to your silhouette. Short or long with a V-neck to sublimate your neckline, or also a strapless evening dress. Avoid round necks, which will not show off your little chest.
A round women's evening dress:
Your morphology is round. Choose a flowing gala dress. Preferably, a long evening dress, which is not above the knee. Play your strengths. Favor pleated fabrics on the front and straight cuts. Avoid stretching materials that mold.
An evening dress for an hourglass morphology:
You are rather "hourglass", a thin waist with hips and chest. A tight fitting evening dress at the waist will be ideal. And a flared wrap dress to show off your cleavage. Forget the straight cut dress!
An evening dress for a small size:
You are small? No worries, again it's not a problem. It will be necessary to play on the height! You have the chance to wear short, so in front of the short evening dress with high heels. If you are petite and if you like long, go on a straight cut model and adjust there to your size. With heels you will see that you will be very elegant. Maybe you can consider a Chinese dress.
An evening dress for a big size:
You are big. The long evening dress is made for you! And if you are slender, dare the short front and long behind. The asymmetrical side will also bring you a nice effect. You can wear almost anything but avoid the court that could be considered too short on you and that may be very uncomfortable during the evening.
You'll find the dress of your dreams … on online party dress sites, in-store. Good luck!