Mehwish Hayat, our very own gangster guriya is on a roll, with achievements after achievements adding onto her belt. The latest one comes after her collaboration with the Muslim Islamic Charity, Penny Appeal, that has recognized her as one of the top five Muslim women who are on a mission to change the world!
I am so honoured to be chosen by the international Magazine, "Muslim Vibe" as one of the top five Muslim women in the world who are breaking stereotypes and changing the world. To be thought of in the same breath as women I look up to is humbling 🙏🙏🙏 https://t.co/3NUkAkIyQe

— Mehwish Hayat TI (@MehwishHayat) August 26, 2019
On Women's Equality Day, it is crucial we remind ourselves that the successes and hard work of these 5 inspirational women, and so many more, have helped us reach where we are now; we must maintain this spark of hope to ensure a bright future filled with women and Muslims determined to make a change.
1. Manal Rostom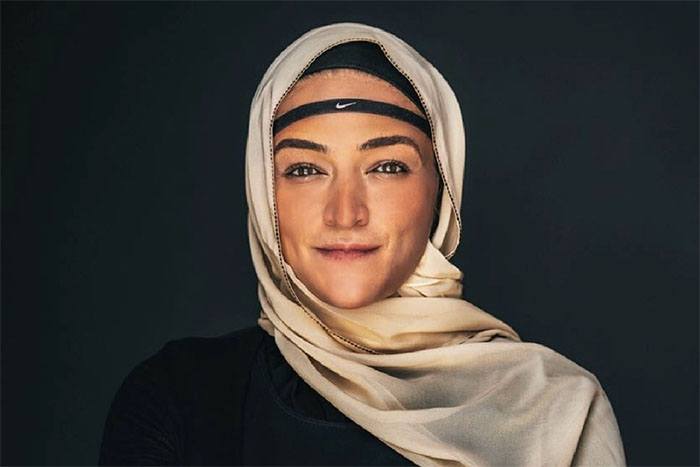 Egyptian athlete, fitness influencer, clinical pharmacist, founder of online community Surviving Hijab; Manal Rostom is without a doubt a noteworthy and hugely successful activist. Aside from her prosperous career as Nike Run Club coach and inspiring position as the (first ever) face of Nike Pro Hijab, she has:
Conquered 3 of the world's tallest mountains, including Kilimanjaro, in aid of building Palestine's first Paediatric Oncology Unit as well as helping towards multiple Autism charities.

Run several international marathons to raise money for Syrian refugees, the homeless in America, and planting trees across Egypt, as well as the London Marathon, in which she ran in 2019 with Penny Appeal.

Raised awareness surrounding Egypt's pressing social issues by participating in a UNFPA – an initiative to cross Egypt by foot last year in January.
Inspirational sportswomen like Rostom are key in keeping society motivated and hopeful for the future of women's equality. Her achievements in the way of mountaineering and fundraising are proof of the resilience and positive impact women have had on the world to date, and are part of the reason she was drawn to the work we do here at Penny Appeal.
2. Ilhan Omar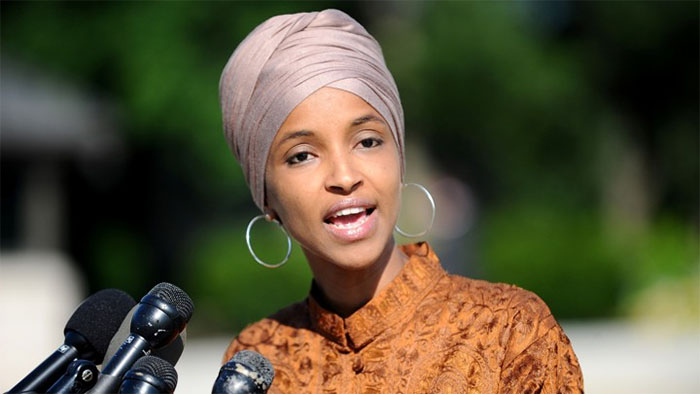 Elected to serve as a member of the US House of Representatives from Minnesota in January this year, Ilhan Omar became a number of historical firsts: she is the first woman of colour and the first Somali American to be elected from Minnesota, as well as one of the first 2 Muslim women (along with Rashida Tlaib) to serve in Congress. In the face of harassment such as death threats and conspiracy theories from political opponents, Omar has remained committed to her cause and continues to propose ideas such as affordable housing, an improvement to the living wage, and abolishing ICE – the US Immigration and Customs Enforcement.
Even prior to being elected as a member of Congress, Omar had participated in the Twin Cities Pride Parade last year and spoken at a number of events, including worker protests in December. Here are a handful of her views on political issues:
Human rights: She has condemned China's treatment toward the Uyghur people (a Muslim ethnic group in Northwest China) and also believes 'No person, of any faith, should be fearful in their house of worship', which she tweeted in response to the 2019 Sri Lanka bombings.

Education: She supports free tuition for those college students with a family income below $125,000, and in June introduced the No Shame at School bill to end punishments for students with school meal debts.

Immigration: Omar strongly opposes President Trump's immigration policies, including his travel ban that imposes restrictions on the citizens of 8 countries (6 of which are predominantly Muslim). She also opposes efforts to seal America's border and said Trump's plan to build a border wall was 'racist and sinful'.
Supporting the work of Omar and other female politicians like her is crucial in the race to fill important roles on the world stage with women and Muslims alike, which itself is a great step towards gender equality.
3. Mehwish Hayat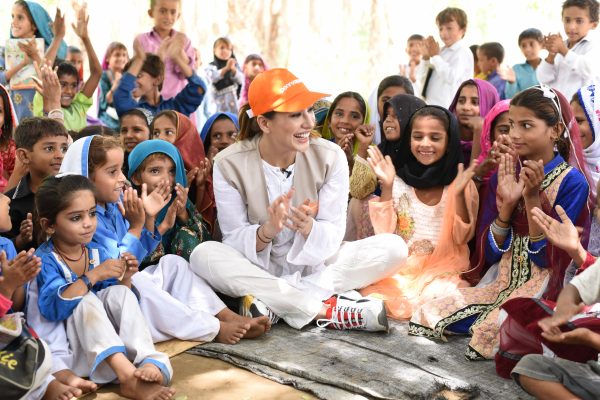 You may have first seen her on the big screen, but Mehwish Hayat is making waves through her activism and humanitarianism around the world. Mehwish is a Pakistani actor, singer, and philanthropist who has recently partnered with Penny Appeal as our new Ambassador. Passionate and articulate, Mehwish has recently hit the headlines for advocating for positive representation and peace in Pakistan.
Earlier this year, Mehwish was honoured by the Government of Pakistan with the Tamgha-e-Imtiaz, the highest accolade any citizen of Pakistan can receive. With all this under her belt, Mehwish is now partnering with Penny Appeal as our Ambassador, to spread her message of peace and progress, and to help hundreds of Pakistani children get the education they deserve by running the London Marathon 2020. You can read more about her work with Penny Appeal here.
4. Linda Sarsour
This American political activist is another woman on our list that boasts numerous remarkable achievements; she was co-chair of the 2017 and 2019 Women's Marches, is former executive director of the Arab American Association of New York, and was included in Time magazine's '100 Most Influential People' in 2017.
Sarsour, of Palestinian descent, began gaining attention following her protests against police surveillance of American Muslims. She then became involved in more civil rights issues such as immigration policy, feminism, and police brutality. As well as this, Sarsour has organised multiple Black Lives Matter demonstrations.
How has she improved society in the USA? Take a look:
She played a part in the successful campaign to have Islamic holidays acknowledged in New York City's public schools, which started observing Eid-ul-Fitr and Eid-ul-Adha in 2015.

She began organising Black Lives Matter protests following the shooting of Michael Brown and helped form 'Muslims for Ferguson', a Muslim community fighting for change in Missouri.

Sarsour has been recognised by the White House as a Champion of Change and was a surrogate for US Senator Bernie Sanders during his 2016 presidential campaign.

Following an anti-Semitic incident in which a Jewish cemetery was vandalised in 2017, Sarsour launched a crowdfunding campaign to raise money for repair and restoration work.
The successes of activists like Sarsour show the progress we are making and, although we still have a long way to go, encourages us not to give up.
5. Ibtihaj Muhammad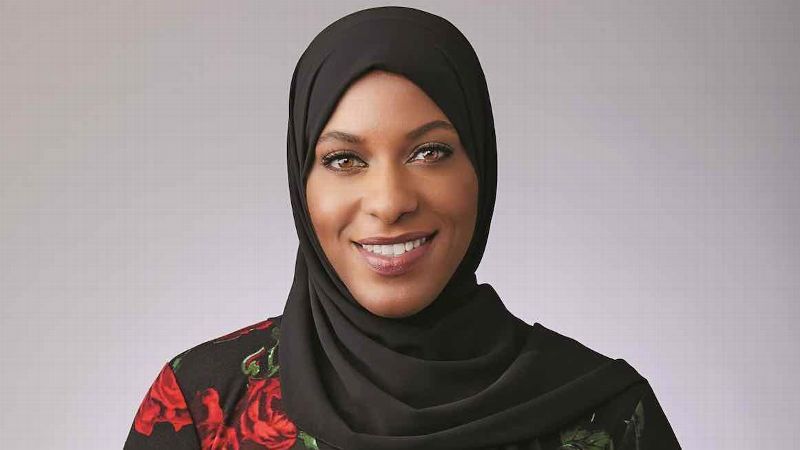 As well as an entrepreneur and activist, Ibtihaj Muhammad is an American sabre fencer on the United States fencing team and won a bronze medal at the 2016 Olympics. Muhammad became the first woman to compete for the US wearing a hijab, and the first female Muslim-American to earn a medal at the Olympics. Here are some more of her sporting accomplishments:
She was the 2005 Junior Olympic Champion.

She ranks 3rd in the US and 23rd in the world.

She was the 2014 Senior World Champion.

She is a 5-time Senior World medallist.
Muhammad has inspired young women around the world through her sporting career, and also became a sports ambassador serving on the US Department of State's 'Empowering Women and Girls through Sport Initiative'. In 2014, she and her siblings launched Louella, a clothing company aiming to promote modest fashion for both Muslims and non-Muslims. Muhammad has also travelled to multiple countries to talk about the importance of sport and education. To top it all off, in 2017 multinational toy manufacturer Mattel introduced the first Barbie doll in a hijab, basing the design off Muhammad. – themuslimvibe