From extravagant cocktail rings to simple, classical wedding bands, rings made from sterling silver are beautiful and go with just about everything.
Made from 92.5% pure silver metal and 7.5% other metal (usually copper), sterling silver is always the second choice material when pure silver is too soft to make large objects or when pure silver is too expensive.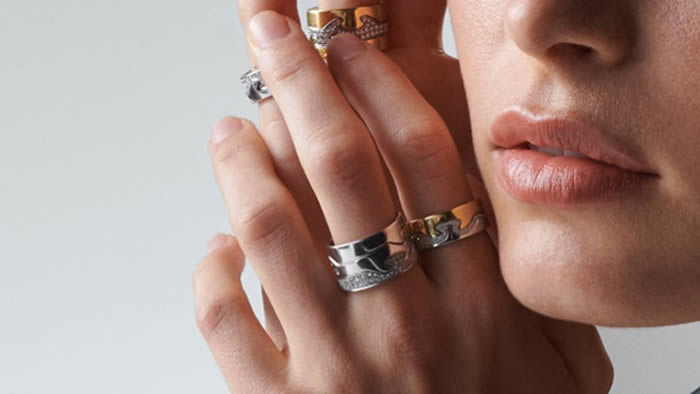 By creating an allow of silver and other metals, the material is the stronger and more affordable choice when it comes to making ornamental pieces such as silver rings for women.
Why you should add sterling silver rings to your collection
Durability
Sterling silver is a very durable metal. When properly cared for, it can last a lifetime. The rings made from this metal continue to look the same after years of being worn. If you are looking to make an heirloom ring, the best choice is a sterling silver ring.
Ensure you get the right quality sterling ring by purchasing from a reliable vendor such as Georg Jensen. You will find a wide array of sterling silver rings for women to choose from.
It is forever trendy
Because of its neutral silver color, sterling silver can be worn with any clothing color, design or wear. Sterling silver will also go with any other jewelry type. You can pair your silver ring with a matching bracelet or neckpiece. Whichever way you choose to accessorize, you can be sure that your sterling silver ring will fit right in.
It offers endless design options
Silver is a soft metal which makes it easy to manipulate into different shapes or designs. For this reason, you are guaranteed that you can get a sterling silver ring to suit your preference, style or idea. If it is not readily available, the design can be cut just for you. Whether you are in the market for a simple detailed ring or a more elaborate one, you can be sure to get it in sterling metal.
It is hypoallergenic
Unlike other metal pieces that sometimes irritate your skin, sterling silver is specifically alloyed with metals that are unlikely to cause an allergic reaction. If you are allergic to brass or nickel, you can wear sterling silver rings or jewelry with no worry.
Care and maintenance of sterling silver rings
Silver is a beautiful metal. However, people avoid it because it tarnishes after a while. Apart from that, silver can also get scratches if not well stored. Fortunately, there are ways to remedy these issues.
• Ensure you store the sterling jewelry a separate, individual compartment if you have a jewelry box.
• Chlorine, ammonia, and bleach can damage the rings or discolor them. Ensure you remove your rings before you handle house cleaning chemicals or before you swim in a pool treated with chlorine.
In case your silver ring tarnishes after a while, a quick metal polish will restore it to its shiny and attractive state.
Ensure the cleaning polish used is bleach-free. Use a nonabrasive cloth to polish your silver to prevent scratching it. The best cloth to polish silverware is one made from microfiber.
If you want to avoid the hustle of having to polish the sterling silver ring, you can have it coated or polished in rhodium which makes it tarnish resistant. It being from the platinum metal family, rhodium will give your sterling silver ring a high gloss finish.
How to tell real sterling silver from fake
A sterling silver ring will have an engraved marking to inform the buyer that it is genuine. A number '925' is commonly used to show that the metal used to sterling silver. It can also be shown by the term 'sterling silver' or just 'sterling' or '.925'. This mark indicates that the ring contains 92.5% of pure silver metal.
Another easy test is rubbing your sterling silver ring with a white cotton cloth. Pure sterling silver or silver will leave black marks on the cloth. This occurs because real silver oxidizes when exposed to air which creates the black tarnish.
Silver metal is non-magnetic. Therefore, you can tell whether the ring is indeed sterling silver by holding it close to a magnet.
Conclusion
If you have been considering starting your personal silver rings collection, sterling silver is definitely the best choice you can make.